DON'T LOOK FOR an LGBT-student resource center on the Catholic University of America campus in Northeast D.C. And don't look for any official student group on the forefront of LGBT advocacy. In the shadow of the Basilica of the National Shrine of the Immaculate Conception, what you should look for are the T-shirts identifying some few of the CUA population as "GLBTQ Ally."
"Us wearing the T-shirts is the most visible thing," says Robby Diesu, a 22-year-old senior and poli-sci major from Long Island, N.Y., of the shirts donned by his group, CUAllies. Lacking official recognition from the university — and therefore the opportunity to reserve campus meeting space or use school resources to organize — the shirts have become the calling cards of this new gay-straight alliance, formed to counter some homophobic editorials in the school's independent student newspaper, The Tower, last fall.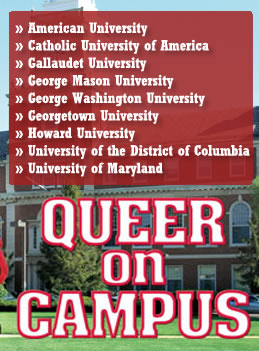 "We have to be extra visible," Diesu says. "Getting our name out is pretty hard, but we have our ways."
As Diesu's fellow CUAllies member David Freerksen puts it, gay people aren't an anomaly on the CUA campus. It's just that the context is a bit more severe than might be observed on other college campuses in the metro area.
"We generally have about 20 people at our weekly meetings, which is really good, because we're not allowed to advertise or do anything 'officially' on campus," says Freerksen, 22, a junior from Delaware majoring in economics. "It's not like it's a secret that there are a lot of gay people at Catholic. I wouldn't say it's underground. It's not like another school where you'd see gay guys holding hands — that's something you don't see here. People can know you're gay and that's fine, but if people see something, a display of affection, somebody would probably say something."
Diesu, who considers himself an atheist, says his lack of faith on the Catholic campus even raises far fewer eyebrows than his sexual orientation. Beyond that, both admit to periods of planning to transfer away to other universities. But they remained, devoted to their cause.
"Honestly, when I first got here, I was turned off by the whole vibe I got," recalls Freerksen, who was hoping at CUA to reconnect with the Catholic faith he adopted in high school. "It was close-minded. The beginning of my sophomore year, I looked into transferring. The main reason I stayed here was out of convenience. Now I'm glad I go here because of CUAllies."
Freerksen adds that prospective LGBT students shouldn't remove CUA from their list of choices for fear of a homophobic atmosphere, which he and other CUAllies members stressed during the April 16 "Day of Silence" on campus, handing out palm cards advocating LGBT equality to visiting high school students.
"I'm not trying to make Catholic sound like an oppressive place," he says plainly, "but there are things that need to change."
Diesu wants gay students considering CUA to know one thing above all: that they are not alone.
"There's a community here that cares deeply. Don't be afraid to come here. I don't know if things are going to change from one year to another — it's a slow process — but I think we get our message across quite clearly. The administration knows we're not slowing down. We're doing things for ourselves, like most oppressed communities do."'
For more about CUAllies, call 530-CUA-LLIES or visit cuallies.org.