The four women dubbed "the ENDA 4" after a March 18 Capitol Hill sit-in demanding action on the Employment Non-Discrimination Act — and subsequent arrest — faced D.C. Superior Court judges the morning of April 6 for arraignment and a status hearing.
The four were charged with "unlawful entry/remaining" for staging the non-violent action at House Speaker Nancy Pelosi's (D-Calif.) D.C. offices, demanding a vote on ENDA on behalf of Get Equal, an organization that urges equal rights for LGBT people across the country.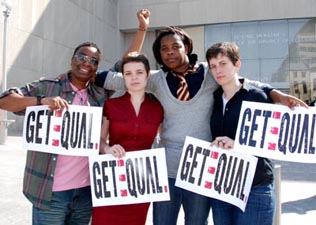 (From left to right) Chastity Kirven, Jay Carmona, Michelle Wright and Samantha Ames
(Photo by Todd Franson)
After the morning arraignment, more than an hour passed before a status hearing where they faced D.C. Superior Court Judge Harold Cushenberry, who said he would drop the charges against the women in six months if they keep their "stet agreement" with the U.S. government.
According to Claire Morris Clark, an attorney representing the ENDA 4 — Chastity "C.D." Kirven, Janine Carmona, Michelle Wright and Samantha Ames — that agreement means the women cannot go to Pelosi's office inside the Cannon House Office Building or break any law during the six months.
For D.C. residents Ames and Carmona, who are partners, the deal also means 60 hours of community service at an organization of their choosing from a list that will be provided to them by the court. Kirven, from Dallas, and Wright, from Fresno, Calif., were spared local community service due to the geographic hardship.
"This is a very good outcome," Clark said immediately following the ruling.
One component of the agreement drafted between the defense and the U.S. Attorney's Office for the District of Columbia barred the defendants from engaging in any "disruptive behavior" in the area of the Capitol. Cushenberry declined to enforce that provision calling it vague and saying it made him "uncomfortable."
Speaking to Metro Weekly immediately following the ruling, Ames, who is studying law at the George Washington University, said she felt "grateful" and "privileged" to have representation that helped her case.
"But we don't have full federal equality yet, and until that happens I am not done," Ames said.
Her partner, Carmona, shared that resolve.
"We went into this willing to accept the responsibility of what was going to happen," she said. "Having people reach out to us to say, 'I care about you,' or, 'Thank you so much for what you've been doing,' has been really amazing. It's definitely outweighed sitting in the processing center for four hours handcuffed to the wall — all of that means nothing. There's been really amazing community outpouring and I'm really excited about that. This is another step in a very long journey."
That long journey could see any of the four behind bars in the future, Kirven said, adding that for her ENDA is personal because a friend of hers claims to have been fired in Dallas for being gay.
"This is not going to stop us from doing what we have to do for our rights," she said. "If I went to jail I would do it again. I have to chill for six months, but I'll be on the front lines again," Kirven adds.
"It's very important for me, as an older lesbian of color, to be doing this to show the younger generation that they need to get involved, that this needs to be important to them. People say, 'Why you?' But why not me? If I don't do it, then they don't see people of color doing it, so they don't feel like they need to do it."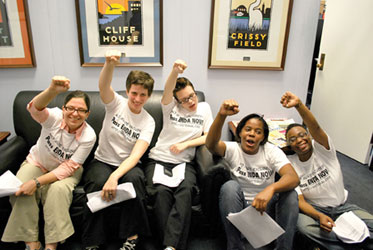 (Photo by Omar Rahim Clarke)
The ENDA 4 were joined by supporters including Lt. Dan Choi and Capt. James Pietran gelo II, the gay servicemembers who preceded the March 18 sit-in by chaining themselves to the White House gates earlier that day to protest the military's "Don't Ask, Don't Tell" policy, which bars gays and lesbians from serving openly.
"It's a duty to come and support everybody," Choi said of attending the hearing. "When you go t hrough the things that we've gone through, you realiz e that money can't buy what we've created. This is something of a family — or a team. In the end, a solider fights for the person who is on their left and their right."
Other supporters included Robin McGehee, a leader of Get Equal, who was arrested with Choi and Pietrangelo, but released after paying a $35 fine. She traveled from her home in Fresno, Calif., for the hearing.
"The most important thing is four women stood up for job security and liberty and justice for our community, in a way that other people have not been standing up," McGehee said.
"[They took] a stand that could also cost them — not only their own job security because of the issues that they may have as they're going for future employment, or even jail time, or legal fines. But they put their lives and their reputations on the line. The least I could do is fly out in solidarity in support of them."