Behind every D.C. drag queen, there's a daddy.
Or at least, there's Big Daddy, promoter J.P. Gulla. This Sunday, May 2, at Omega DC, Gulla launches the first-ever D.C. preliminary to the national Entertainer Of The Year pageant. And every Monday night at Omega Big Daddy Productions presents the drag event Rouge.
"I had friends who did drag, and I had friends who had been involved with shows," says Gulla, who started promoting drag shows eight years ago. "And ever since I was a child I was interested in performing." But you won't find Big Daddy in drag.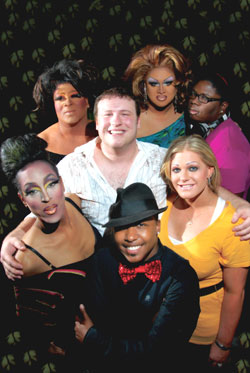 J.P. Gulla (center)
"I'm a male entertainer — a live singer," says the 30-year-old Strasburg, Va., resident, who is also the reigning Mr. Capital Pride. Gulla, who grew up in New York playing baseball, soccer and football, originally set out to become an stage actor and director. He earned his masters in theater from Catholic University before realizing there was more money to be made in nightlife. In addition to his drag shows, he bartends during the week at Omega and on weekends at West Virginia's Guest House at Lost River.
He picked up the nickname Big Daddy in high school, after Major League Baseball player Cecil Fielder. "I'm the big, nurturing guy who would help anybody out," Gulla says.
Big Daddy's heart belongs to drag — literally. This August he plans to get hitched in Las Vegas to D.C. transsexual performer Amanda Bloomingdale.
But first, the Entertainer of the Year pageant, or EOY.
"Every [drag] pageant system is different," explains Gulla. The only requirement of contestants across the board is "you have to have a penis." EOY allows some plastic surgery and gender modification, and it offers the biggest haul of them all: Over $4,500 in cash and prizes just for the D.C. preliminary alone. The winner from D.C. will go on to compete for $10,000 in cash plus additional prizes at the national pageant in Louisville, Ky., in August.
"It's more creative fashion, creative evening gown, just more creativity," Gulla says about EOY. But don't try it at home. Leave the dressmaking to the professionals.
"You could sit down and make a costume yourself," he says, "but you probably wouldn't win."
The Miss DC Regional Entertainer of the Year pageant, with performances by the reigning Miss EOY Bianca Nicole, Kristina Kelly and Miss Omega DC Brandy Courvoisier, is Sunday, May 2, at 8:30 p.m. Omega DC, 2122 P St. NW. Cover is $12. Call 202-223-4917 or visit omegadc.com.