"Oh-oh-oh, I've gotta rocket," Alison Goldfrapp wispily sings on the first single of Head First, her eponymous duo's fifth album. She knows just what she wants to do with her "Rocket" — ride it all the way to the top of the charts. If not the pop charts, then at least the dance charts. (Even that feat eluded the popular British dance duo last time out, with songs from 2008's trippy, sensual Seventh Tree.) "Rocket" is actually a giddy revenge ditty. Goldfrapp is singing about getting rid of a cheating lover, sending her to space alone. (I say her, that is, since it was just revealed last month that the heretofore presumed-straight singer is now in a relationship with a woman.) "Oh-oh-oh, you're going on it," Goldfrapp continues the chorus. "Oh-oh-oh, you're never coming back."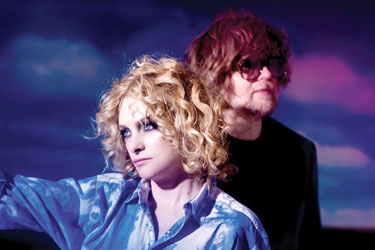 Not glittering: Goldfrapp
(Photo by Serge Leblon)
Some people may feel the same way about Goldfrapp.
With her musical partner Will Gregory, Goldfrapp sure likes to test fan loyalty. The two started off a decade ago as eccentric folk-poppers with the chill-out debut Felt Mountain. But two albums later, 2006's Supernature, they were disco-fired glam-rockers to the core. "Oh La La," indeed. And then they switched it up again, producing the psychedelic electronica of 2008's Seventh Tree. Early fans would have fired them off on a rocket a long time ago if such inconsistency hadn't been consistently good. But with Head First — electro-pop through and through, steeped in a late-'70s/early-'80s vibe that will remind you of everyone from Pat Benatar to The Cars to ABBA — that streak has ended. The press release announcing Head First claims Goldfrapp has "perfected the art of delivering the album we didn't know we wanted them to make."
Well, they are good at it, yes. But Head First proves they haven't perfected the art, because I know I didn't want them to make this. It sounds little more than a naked grab for wider success — if not Lady Gaga-sized, then at least on par with La Roux. Goldfrapp helped point the way for both of those artists, after all. Why this sudden shift all the way back (and then some) to dance after Seventh Tree? Well, that set, the band's most accomplished by far, took some time and effort to appreciate, more so than most listeners probably had it in them to give. And so unadventurous listeners get the largely unadventurous Head First, filled with cheap dance bonbons, lead by "Rocket" — which in fact is now close to the top of the Billboard dance charts. So, like many pop acts before them, Goldfrapp succeeds with failure: The song is pure pablum, all the worse for its clichéd beginning and end, when we hear the sound of a rocket briskly taking off. Thanks for spelling that out, Gregory.
"Rocket" offers just one of many pop clichés on Head First, both of the lyrical and musical kind. Some of these work better than others. The sweet, brooding bridge in "Dreaming" ends with a dramatic pause and drumbeat to return us to the chorus — and to dancing. It's a dance music cliché, sure, but it's also pretty dreamy.
There are, in fact, a fair number of good, even great, songs on Head First. "Shiny and Warm" is about the anticipation of reuniting with your lover. "I'm almost there for you/Wind down the window, and feel a rush of air around my face," Goldfrapp sings. Gregory offers the perfect musical accompaniment, with a steady, prominent beat that recalls Supernature's "Satin Chic." You definitely feel the rush of bottled-up excitement about to be released.
"Too much, too little, too late, to wanna dance," Goldfrapp sings on "I Wanna Life," a request to settle down with someone. The song's warm and bubbly sonics appealingly complicate that message: The song makes you want to dance and gaze into your lover's eyes.
GOLDFRAPP
Head First
Mute
$14.98



And any fan of Goldfrapp through the years will appreciate the eccentric closing track, "Voicething." Goldfrapp sings like a chorus of birds, even an owl at one point, stacking her ethereal, humming vocals the way only she can do. Unfortunately, she only does that on one track here, and there's nothing else quite as brilliant. Instead, the duo offers a cheap impersonation of ABBA on the dull, lifeless title track. "Head First" finds the band falling flat.
"It's about jumping into a situation without abandon, without thinking too much," she told New York magazine about the song. I can't help but feel that that's what happened here, that Goldfrapp and Gregory just concentrated on churning out the most basic pop songs they could, as fast as they could, to cash in on the resurgence of dance music in the mainstream. If Lady Gaga can score major success with mediocre and worse songs simply by recycling electro-pop ideas from the '80s, they must have reasoned, why can't we?
And maybe they will. Certainly if there can be a place for Ke$ha at the top of the charts, by God, send up that "Rocket," please.