Some singers were just made for each other. Take "baritenors" Jon Arterton and James Mack.
"We're told that when we sing in unison our voices blend perfectly, which is really a wonderful thing. It's like one voice," says Arterton.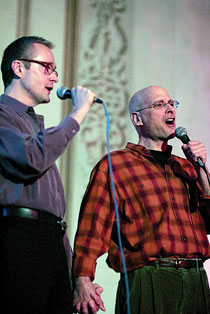 Jon Arterton and James Mack
(Photo by Brad Fowler)
The married couple from Provincetown, Mass., who met while singing in a choir, will demonstrate the musical match this weekend, singing selections from the revue Just Married! (The Musical) with the Lesbian & Gay Chorus of Washington, D.C. The full concert features a variety of music, including songs by Garth Brooks and David Friedman, performed by the dueting couple, the chorus and the a cappella group Not What You Think. It's to be one of the last performances of LGCW, which will disband after Capital Pride mainly due to declining membership, according to member Rick Mauery.
Arterton says the couple started performing its revue in 2005 soon after getting married. "When we first started doing it, Massachusetts was the only state that allowed same-sex marriage," he notes.
According to Arterton: "Although we do delve into politics, and include humorous talk about the differences between gay and straight marriages, the show is basically a love story. The main theme is just that we really love each other."
Friday, April 23, and Saturday, April 24, at 8 p.m. Also Saturday, April 24, at 3 p.m. Capitol Hill Arts Workshop, 545 7th St. SE. Tickets are $25 at the door. Call 202-547-6839 or visit chaw.org.