WHEN VIRGINIA ATTORNEY General Ken Cuccinelli showed up at George Mason University's law school in Arlington last month for a speech, about 50 students and faculty members were there just to ask him to leave. That's because the George Mason University-alumnus visited the college shortly after penning a letter to colleges and universities in Virginia stating that they should not have implemented antidiscrimination policies based on sexual orientation without an executive order.
While that demonstration speaks to Mason's gay-friendly atmosphere, GMU's Pride Alliance, an organization for LGBTQ students and faculty, is one that generally veers away from political activism.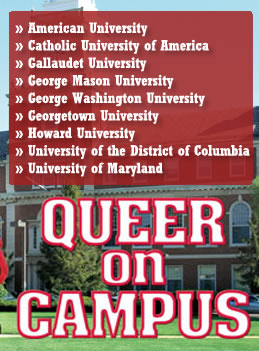 "The Pride Alliance is here to let people feel more comfortable about their identity," says Alejandro Asin, 23, who serves as co-chair of the group.
"[Political activism] is something that should come up in our discussions, but it's not something that we focus on. We just want people to be here and feel safe, no matter what their ideologies."
The Pride Alliance provides weekly meetings, movie nights and other events throughout the year, including a popular drag show in the spring, as well as week-long events to mark Coming Out Week in October.
"Sometimes we do excursions and take people to Dupont Circle or U Street to show them queer-friendly places," Asin says.
Asin found himself looking for a "queer-friendly" place upon transferring to Mason in 2007 to study biology and sociology.
"I didn't have any friends who were LGBT, and I was starting to come out then. I decided to go to a Pride meeting to meet new people, to become more comfortable and to learn more about [LGBT] issues, because I really didn't know that much."
It wasn't easy.
"I was very nervous. It was a huge group, so it was hard and overwhelming."
But as the weekly discussions continued, Asin says he became more comfortable being around LGBT people and that made coming out easier for him. '
Chalk scribbled on the campus's sidewalks is what led Myca Taylor, a 19-year-old sophomore studying history and religious studies, to a Pride Alliance meeting, though she was familiar with the group even before starting classes at Mason.
"I actually looked for [the group] when applying for colleges. Mason's Pride group was the most developed one I could find," she says. "I didn't know where the meetings were until I saw a chalking [on the sidewalk] detailing the beginning-of-the-year pride party."
Taylor got involved and says it was a life-changing experience. "It taught me the importance of not only a diverse group of identities, but also the fluidity and lack of identities as well," she says. "I firmly believe in having a safe space that LGBTQIS people can come and feel welcome, make friends and feel comfortable."
In addition to the Pride Alliance, students have access to school's Office of Lesbian, Gay, Bisexual, Transgender, & Questioning (LGBTQ) Resources, what Asin describes as the "Pride Office."
"It's just a place where people hang out," he says.
"I think it's a great place for people who don't feel like they're in the 'in' group to go, and feel comfortable about themselves."
For more information about GMU's Office of Lesbian, Gay, Bisexual, Transgender & Questioning Resources, call 703-993-2702 or visit lgbtq.gmu.edu. For the Pride Alliance, visit pride.gmu.edu.