WHEN MARRIAGE EQUALITY hit the District on March 3, George Washington University was at the forefront. Among the first same-sex couples to wed at D.C. Superior Court were GWU alumni James Betz and Robb Hawthorne. They exchanged vows months after a group of GWU students, including Peter Weiss, president of GWU's College Democrats, testified in front of the D.C. City Council in favor of marriage equality.
That off-campus advocacy is consistent with what's happening on campus at GWU. The Student Activities Department includes an LGBT Resource Center, and the school is also the home of Allied in Pride, a student-led LGBTQI group.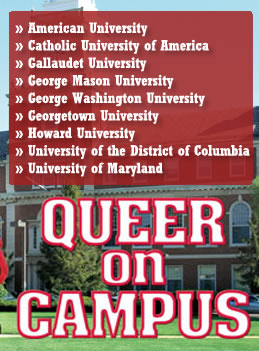 Neha Shah, a 21-year-old bisexual senior studying international affairs, joined Allied in Pride as a freshman to make friends.
"When I got to campus, I didn't know a whole lot of people here," she says. "I wasn't the type of person to go to parties every Friday night, so this was a way for me to meet people who were interested in some of the things that I was interested in."
Wrapping up her final year at GWU, Shah is currently serving on the executive board of Allied in Pride. Looking back over the past four years being involved with the group, Shah says she's most proud of the group organizing an event two years ago to discuss Islam and homosexuality.
"It was a really popular and slightly controversial event that I think sparked some great discussion and got people thinking," she says.
"We do a whole lot of activities, so I think there's really something for everyone. Some people aren't interested in the political aspect of things, and that's fine. We do a lot of social events like the Drag Ball. It's one of our more popular events and we get kind of a diverse audience coming to that."
Marika Lee, an 18-year-old lesbian serving on Allied in Pride's executive board, says the student group serves a different purpose than GWU's LGBT Resource Center.
"Allied in Pride, since it's not part of the university, is able to speak out on different issues that the university would not be able to speak out on," says Lee, who is also student coordinator at the office.
"So Allied in Pride is focused very much on political activism and the very active and very loud role of LGBT students on campus. The resource center is here as a tool, as counseling tool, as a social kind of contact tool for the students.
"I think without these resources on campuses for LGBT students, there's a huge part of their life that would just have a void. In order to find the community at GWU, I really needed someone to help me with that. I needed social events to go to, I needed people to talk to, I needed a group of people that I knew would be at the events, and that I could contact. It was really kind of a catalyst for me, finding my identity at GWU within the community."
For more information about GWU's Lesbian, Gay, Bisexual and Transgender (LGBT) Resource Center, call 202-994-4568 or visit gwired.gwu.edu/sac/LGBTRC. For Allied in Pride, visit alliedinpride.org.