Following the death of Brian Betts, a beloved gay principal at Shaw Middle School at Garnet-Patterson, Gays and Lesbians Opposing Violence (GLOV) has issued a warning reminding members of the LGBT community to be cautious when using social-networking sites or similar venues.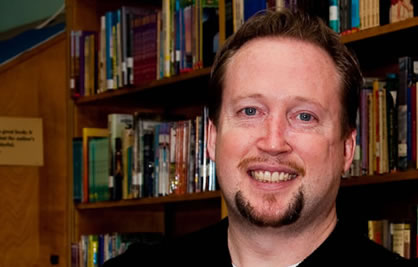 Brian Betts
(Photo by Bel Perez Gabilondo / DCPS)
Betts, who would have been 43 on April 29, was found in his Silver Spring home April 15, dead of a gunshot. While there were no signs of forced entry, the Montgomery County Department of Police confirmed Monday that it has not released any information indicating Betts may have met his killer, or killers, via a social-networking site or the like. NBC News 4 did report April 20, however, that police are examining Betts's computer and cell-phone records.
Kelly Pickard, co-chair of GLOV, a program of The Center, D.C.'s LGBT community center, says there is enough information to warrant a warning to the community.
"We were going off of things we were hearing within the community, and a brief report on NBC4.com. It was very short, but it mentioned the possibility of a social-networking site. And in other conversations with other anti-violence groups, this seems to be not just a D.C. trend but a national trend."
The GLOV advisory also cites the Dec. 27 murder of Anthony Perkins. An investigator in that case said Perkins, a 29-year-old gay man, was apparently lured to the 2900 block of 4th Street SE by someone he spoke with on "DC Raven," a telephone chat line. Antwan Holcomb was charged March 12 with first-degree murder while armed in the Perkins case.
Police say Betts's SUV was abandoned April 16 on the 3900 block of 4th Street SE, just 10 blocks from where Perkins was killed.
"In light of the recent murders of Anthony Perkins and Brian Betts, Gays and Lesbians Opposing Violence (GLOV) has reason to believe that gay men who arrange sexual encounters through websites, chat rooms, or apps may be being targeted for violent crime," reads the GLOV advisory, issued April 23. "While the internet and phone 'chat rooms' offer a non-threatening environment to meet people, it can also provide opportunities for criminals to prey upon unsuspecting victims. GLOV urges individuals who use the internet as a place for meeting acquaintances or sexual encounters to be aware of their surroundings, talk on the phone prior to meeting in a public place, and notify friends of your whereabouts."
Adds Pickard: "Obviously, plenty of people use social networks. It was just a reminder. We sometimes forget to take precautions. Our No. 1 goal with GLOV is to reduce the amount of crime in our community. If there's a possibility a similar tactic is being used, it warrants warning the community."
A public memorial service honoring Brian Betts will be held Saturday, May 1, at the Strathmore Music Center at 5301 Tuckerman Lane in North Bethesda, from 10 to 11:30 a.m. Anyone with information about this crime should contact the Montgomery County Department of Police homicide detectives at 240-773-5070.