Ask Mahmoud "Moody" Mustafa how it is that he became the doctor on call for so many visiting celebrities to D.C., and he laughs. "[A] self-fulfilling prophecy," he says. "If you're a big rock star and you came to Washington and were not feeling well, who would you want to see?"
Even if you're not Madonna or Bono, the answer is certainly Moody. The good doctor has a way of making everyone around him feel good.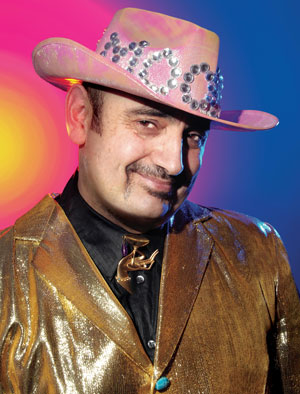 Mustafa
(Photo by Todd Franson)
And most days, Mustafa is taking care of regular patients, approximately half of whom are gay, in private practice. Mustafa sees them in an expansive, fourth-floor office in D.C.'s West End — a block from his home — that is as exciting as a doctor's office can possibly get: Walls overflowing with autographed photos and memorabilia from Janet Jackson, Depeche Mode and Bernadette Peters.
Still more pictures are Mustafa originals, a reflection of his hobby as a club and concert photographer. Here's a close-up of Patti Labelle belting it out. There's a zoomed-in image of Madonna in her Drowned World Tour kilt. Even more treasures reside in his actual office, colorful circuit keepsakes — from costumes to yet more dazzling original photos. And never far away is Chester, Mustafa's plump golden retriever who has nearly as much personality as his owner.
Mustafa has practiced medicine for 24 years, with an initial focus in hematology and internal medicine.
"I probably saw as much as anybody in town of HIV-related problems back in what I call 'the old days,' before the mid-'90s, when HIV/AIDS was a completely different illness."
Since then, his practice has shifted to more general primary care, even cosmetic procedures such as Botox and laser hair removal.
The 52-year-old is a strong believer in the need for his generation to guide its predecessors. With all the progress that has been made, he says, "it's really important for us to keep reminding people that, this did not come easy, folks…. The way was paved with blood, sweat and tears."
Mustafa's professional world is balanced by charitable work and caring for the community. He served for years on the board of the Whitman-Walker Clinic. And every year, he raises thousands of dollars for AIDS-related charities through his Metropolis Fund.
The fund's biggest event is Mustafa's own birthday party. The extravagant party, now in its 14th year, draws roughly 600 people the Saturday afternoon of Cherry Weekend. This year's party is at Town, with tunes by one of the gay circuit's best DJs, Joe Gauthreaux. The theme: "ABBA-licious," or simply, "Moody Mia!"
Mustafa became a doctor to please his father, who moved the family to the United States after the Nasser regime in their native Egypt took ownership of his father's cement company. After growing up in Bethesda, Mustafa earned his medical degree from George Washington University.
"I think I've found my calling," he laughs. "The only other thing that might have been as much fun for me is being a leading man, a superstar actor."
Once a year, at least he gets to play the part at Town.
METRO WEEKLY: Let's start by getting your actual birthday.
MOODY MUSTAFA: April 21, 1957. I'm a Taurus, whatever that means.
MW: Do you ever celebrate your birthday in a personal, private way?
MUSTAFA: My mother insists that the family celebrate the birthday on the birthday. So I always go out to my parents' house and we do dinner and a cake and stuff. You know, I don't believe in making a big deal out of my birthday. [Laughs.]
MW: Right. And just how long has it been since you started not making a big deal out of your birthday?
MUSTAFA: When I turned 40 in 1997, I decided to have a big blowout affair and invited as many people as I could and paid for the whole thing myself. The following year, several people asked me, "Why don't you do a fundraiser?" The more I thought about it, part of doing your part if you're going to have fun is to pay for the privilege and have it benefit other people, people that need it. So I started doing fundraisers in 1998 and I've done it every single year.
The party's not about me. I mean, it may be my birthday party but anyone who's ever been knows it's not about me. I'm the one who can pull it off, but it's really about everybody, you know, people coming together. It's a big love fest, everybody having a good time. It's daytime, so everybody can go. It's a great mix of people.
MW: One of the highlights of your party is the performance, with you and assorted others. How long have you been doing that?
MUSTAFA: As the party grew, I had to make it different every year. I had to keep outdoing myself year after year, so I just started adding more and more entertainment. I think the first year I actually performed was in 2001, and that was the James Bond party. I dressed up as James Bond. I had a couple of Miss Adams Morgan's girls as my Bond Girls. We did a stupid little routine. It's all totally campy, all in fun.
MW: Have you ever dressed in drag before?
MUSTAFA: Never. It's not for me. I put on a wig, but that doesn't count. I don't like makeup. I never put anything on my face. Anything more than an inch for a heel, I'll fall over, so forget that.
MW: What inspired you to create the Metropolis Fund?
MUSTAFA: I do backstage medicine at rock concerts, so I have access to a lot of tickets. People used to ask me to get them tickets all the time and I got kind of tired of just doing it, so I thought, "You know what, if I get you a ticket, you have to donate money to charity." I set up the foundation specifically to do that. So over the years I've done many events where I buy a block of tickets from the promoter. [Over the years] we've raised quite a bit of money for AIDS-related charities. I do it all myself so there's really no overhead — I don't take a salary or anything like that. Most years the birthday party made money. A couple years it didn't because we overspent. A couple of years there were a lot less people who came to town for Cherry — since it happens on Cherry Weekend. So we made a few thousand less.
MW: Your birthday party has always been held over Cherry Weekend, but it hasn't been tied to Cherry until this year.
MUSTAFA: I think the idea of having it Cherry Weekend has always been sort of win-win so that I bring people to town who go to Cherry, and they bring people to town who come to my party. And so it has always been an official unofficial part of the weekend. This year it's part of a ticket package in the hopes that they'll sell more tickets [to Cherry events].
MW: You actually have a long history with Cherry. You even helped organize the third Cherry party, back in 1998, after Whitman-Walker Clinic bowed out as organizer.
MUSTAFA: About a dozen of us got together [in '98]. I actually didn't do a whole lot other than just lend my name to it. But we did it on a shoestring budget. We ended up raising something like $20,000 for the charities. And then a group formed the Cherry Fund and they took it over in '99. Then in 2000 it peaked because it was the Millennium March and they had 4,000 people at the Post Office Pavilion and raised over $300,000. I mean, it was tremendous. And the Cherry Fund has [produced it] ever since.
MW: You still travel the circuit, don't you?
MUSTAFA: No, I hardly ever go. It's not as much fun as it used to be. And plus, you know, when you get old, it's just hard to do. It's taxing. I [still] go to Halloween in New Orleans every year. But I don't do a weekend thing. It's been a long time since I've done any of that. For New Orleans, I literally fly in, go to the main event and fly out. I go down to photograph it because it's a great party to photograph, because the costumes are just unbelievable.
MW: When did you get started photographing the circuit?
MUSTAFA: Almost by accident. I brought my camera to one of the big events and I started taking pictures and I think one time my flash didn't go off, and that turned out to be the best picture. It was a very sexy picture. It was a slight double-exposure and then I realized, "Oh, don't use flash." So I almost never use flash and I get some amazing photos.
MW: What was your role exactly? Did parties pay you to photograph?
MUSTAFA: No, I never wanted to be in a position where I was obligated. What was nice was, I would go to the party and I would circulate and just take pictures the whole time. That was great fun for me. I enjoyed that.
MW: Do your parents ever come to your party?
MUSTAFA: No, my parents are too old. My parents are 80 and above. My brother comes sometimes. He lives out on the West Coast. He's come to a few of them, but it's far.
MW: When did you come out to your family?
MUSTAFA: You know, it's the kind of thing where, in Islamic culture, no matter how hard you try to come out, you don't come out. They just want to believe what they want to believe, and so you just don't talk about it. It's a tough thing for people who grew up in an Islamic culture to accept, because people in that part of the world have such deep religious beliefs that they're just absolutely sure you're going to hell — and they don't want that for you. So it's hard for them.
MW: When did you accept it yourself?
MUSTAFA: Oh, I accepted it ages ago. I was probably out to myself when I was 19 or something like that, when I was in college. I've always been fine with it. I mean, totally fine with it. Never had any doubts. I can't imagine being anything else and I never could.
MW: How long have you been in private practice?
MUSTAFA: Since 1987, so this is my 24th year. I've been in this office at 2311 M for 17 years, and I'm getting ready to sign a new 10-year lease, which should take me to age 63. It's hard to say that. [Laughs.]
[When I started,] I was so busy seeing so many sick, sick, sick, sick people. I had a lot of people on chemotherapy, a lot of people with blood-related cancers, and a lot of our patients survived a year or two and that was that. In the mid-'90s when all the new medications came out, all the blood problems that I used to see back then went away. About half the people that I see every day [now] are HIV-positive, and the other half are mostly younger people in their 20s and 30s, healthy young people who come in for physicals and then routine medical problems.
MW: Is your practice predominantly gay men?
MUSTAFA: No. Maybe half of the practice is gay men, but the other half is everything — young, old, rich, poor, male, female, every socioeconomic and ethnic group you can think of. I have homeless to billionaires. What I pride myself about my office is that everyone gets the same treatment, no matter who you are.
MW: You really have patients who are homeless?
MUSTAFA: Yeah, I have a few homeless people that come here. I try not to turn anybody away. If you can't afford to see me, I'll see you anyway. I mean, that's the way medicine ought to be. I firmly believe that there shouldn't be a single person in this country that shouldn't have access to good medical care. And it's pathetic that…I don't know if this current health plan is going to work, but I know that the old system was lousy, so we'll see what happens.
MW: What are examples of some of the blood problems you don't see as much anymore.
MUSTAFA: Things like Kaposi's sarcoma. I mean, a really, really aggressive disease where they had just horrible ulcerations on their face, on their legs — sometimes people had to get toes amputated and feet amputated. Horrible, horrible stuff.
MW: It must have been difficult just to go into work every day and face that.
MUSTAFA: It was a dark era for our community, especially the beginning of the AIDS crisis when we didn't even know what was causing it — and when we did know what was causing it we didn't have a test. If you were a sexually active person, you just kind of walked around and wondered, every little sniffle, every little ache and pain, "Oh my god, am I getting sick? Is this it?" At the same time, we [doctors] had a job to do. We could at least make people comfortable and we could often prolong life. A lot of people actually survived that period. And people who should have died in the mid-'90s are now alive today much healthier than they were back then.
MW: When the test for HIV came out in the mid-1980s, you had to start breaking bad news to people on a regular basis.
MUSTAFA: That was and still is a difficult thing to do. But back then it was really hard, because you were basically telling someone you now have a disease where the average life expectancy is one to two years, and you're telling this to somebody who is 28, 30, 32 years old. Those patients needed so much support. And there were tons of support groups back then. Now when you tell somebody they have HIV you tell them, "You know what, you're going to live a normal lifespan. Something else is going to get you." It's better to have HIV than to have diabetes nowadays. So it's completely different, completely different.
MW: And I guess it has changed people's outlook on health, too.
MUSTAFA: It's interesting because my HIV population is quite healthy. What we deal with now is complications of the medications, mostly long-term, like loss of fat in the face, or in the arms and legs, accumulation of fat in the belly. Some people do develop diabetes and high cholesterol and muscle wasting, things like that.
And then there's the younger generation out there having unprotected anal sex. This attitude that if they get it, well, there's treatment for it. Well, you'd rather not have it, given the choice. I'm getting a lot of new diagnoses every week and the kids are usually in their 20s. I had a 19-year-old the other day — a new diagnosis.
MW: What was his response?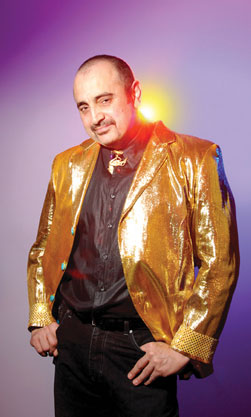 Mahmoud "Moody" Mustafa
(Photo by Todd Franson)
MUSTAFA: I don't think he understood the whole thing. Even though he should live fine, he's going to have to be more responsible, he's going to have to come in and have blood work done three or four times a year; he's going to have to be up-to-date on his vaccines. He's going to have to be careful not to infect other people and he may have to take regular medication. It's not something that any of us really thought about when we were in college. When we were in college, we were just in college, went to class, drinking beer or whatever, and I don't think he realizes [he's lost that] — it's going to take time.
MW: And it's not just HIV one has to worry about out there.
MUSTAFA: Oh no, it's lots of stuff. We treat syphilis here three or four times a week, gonorrhea three or four times a week.
MW: Those are on the rise?
MUSTAFA: Definitely. It's an epidemic, especially syphilis. It's just absolutely epidemic within our community. You know, HIV is hard to get compared to the other ones. Syphilis and gonorrhea are a lot easier to get. Fortunately they're treatable, they're curable — if you know you have it. But if you don't get a syphilis test you may never know that you have it. Not everybody that gets syphilis gets symptoms.
MW: Tell me about your extracurricular medical practice, playing doctor to the stars. How did you get into that?
MUSTAFA: I've been doing that since '87. I work with every promoter here in town basically.
MW: How often are you called on for that, and what does it involve exactly?
MUSTAFA: Oh, I get called once or twice a week to either go to the venue or sometimes the person comes [to my office]. A big rock star is not going to leave the hotel room or the dressing room, so I'll see everybody from the bus driver and the cook, the wardrobe lady, the managers, the tour manager, the dancers, all the way up to the big star of the whole thing.
MW: Speaking of that, how was it meeting Madonna?

MUSTAFA: She's pretty intimidating. [Laughs.]
MW: Even for you? You don't seem the type who would get intimated easily.
MUSTAFA: I didn't show the intimidation, but I think I was — oh, come on. It was Madonna! Please! It was kind of fun to meet her, it was a long time ago, during "Blonde Ambition."
Janet Jackson's really nice. They're all nice to me. It's not like I'm walking in like a groupie or somebody that wants something from them. I walk in and they want something from me, so I'm in a very unique position that way.
MW: I imagine some of the bigger stars have their own doctors.
MUSTAFA: No, nobody has their own doctor. You know, in order to travel with someone, in order to provide medical care to them wherever they are, you have to be licensed in that state. So if you're on tour, going to 50 states, you're not going to have a license for 50 states. And the ones who do have their own doctor — hello, Michael Jackson — it's not a good idea. These people are healthy anyway. To be a rock star, you have to be in really good health.
MW: So what are they asking you for?
MUSTAFA: It's not major things. It's colds and sore throats, like anybody else. Sore toes, my hair's falling out. It's easy stuff. A lot of B-12 shots. Vitamin B-12 gives you a boost of energy. Some people don't believe in it, but it's harmless. It's a big rock-star thing.
MW: What other changes have you seen over the decades in the gay community?
MUSTAFA: Well, my generation is the first gay generation that has the ability to guide the next generation. When I was 20, there really weren't that many out, openly gay, successful men that were in their 40s that you could look up to and say, "Wow, I really want to be like him when I grow up. It's okay to be gay. I'm not going to put up with all the crap that society dishes out to our community."
I think AIDS was very important in shaping our generation. It made so many people in my generation so angry in the beginning when Ronald Reagan never even uttered the word "AIDS." It really rallied the troops.
MW: Now the cause is marriage, which may not rally the troops quite as successfully.
MUSTAFA: We're going to look back 20 years from now and go, "Can you believe that gay marriage was not legal in the early part of the 21st century? Oh my god!" The way we look back now and say, "Can you believe black people had to sit in the back of the bus?"
MW: I should ask you about your relationship status.
MUSTAFA: Single! For a long time now, geez. Single for 11 years.
MW: Is that the way you like it or is that just the way it is?
MUSTAFA: You know, I've been in four long-term relationships in my life, and all of them kind of happened. And they happened when I wasn't looking for it. So I'm continuing not to look for it. [Laughs.] I'm trying the hardest not to look for it. It'll happen someday. I'm very happy where I am.
MW: How would you characterize yourself?
MUSTAFA: I'm basically happy. I have a good life. I'm lucky in that I enjoy my work very much and I have a lot of perks. I have a lot of people around me who adore me, thank goodness. I'm very lucky that way. I learned a long time ago to not care about material things. It's been years since I've even thought about material things. You know, the things that matter in life are really just to be happy with the people around you. Doing things for other people makes me very happy. In fact, if you're sad, you should go do something for somebody else. That'll pick you up.
Moody Mia! is Saturday, April 10, from 2 to 7 p.m. Tickets are $50 at the door. Town Danceboutique, 2009 8th St. NW. Visit towndc.com and cherryfund.org for more information.