Washington knows galas, from national organizations' star-studded dinners to embassies' glittery fetes. But there's something possibly dearer for locals when the homegrown groups step into the spotlight, as two will this weekend.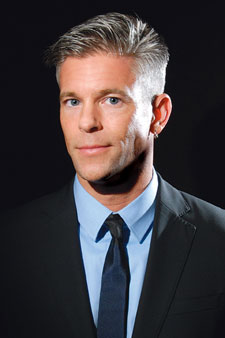 Mark Guenther
(Photo by Todd Franson)
First up is the Friday, April 9, Capital Area Gay & Lesbian Chamber of Commerce's (née Potomac Executive Network) 20th Anniversary and Awards Dinner.
"There will be noticeable differences from years past," says the chamber's first executive director, Mark Guenther, who is quick to point out that the event will mark his 109th day as the group's e.d. (But who's counting?) "We added an entire third act."
If the first act is the silent auction and the second the dinner and awards ceremony, he explains, the new third act is the after-party with dancing, a DJ, champagne, chocolate and a barista.
"I think when all is said and done, it'll be an event that people will be talking about," Guenther assures.
The awardees may even be talking about it for years. They are David von Storch, winning the Excellence in Business award; Cathy Renna for Business Leadership; Thomas Sanchez as Emerging Entrepreneur; Jonathan Blumenthal as the Paul Ludeman Volunteer of the Year; Bob Summersgill for Community Advocacy; and Wachovia, a Wells Fargo Company, as Corporate Partner of the Year.
Then, on Saturday, April 10, it's time for the nation's largest chapter of Parents, Families and Friends of Gays and Lesbians (PFLAG), Metro DC PFLAG, to hold its 13th Annual Honors Gala & Silent Auction. The name is something of a misnomer in 2010, however, as the organization will be adding a live auction into Saturday's mix.
"It will be our first-ever live auction," says Bill Briggs who, like Guenther, will be marking his organization's first gala with him in the executive director's seat. Some exciting items to bid on this year are a signed guitar from k.d. lang and lunch with Judy Shepard.
The chapter will be honoring the family of Brian Picone, a popular Falls Church gay youth who died in October 2009, with its Affirmation Award; KPMG with the Corporate Award; the Whitman-Walker Clinic with a Community Award; and the Virginia Episcopal Theological Seminary with its Faith In Action Award.
Another new twist for Metro DC PFLAG this year is a pre-gala pizza party for youth younger than 21, featuring the gala's headliner, Mike Manning of MTV's Real World: Washington D.C. Briggs says he hopes that similar, pre-gala events for youth will continue to be a component of the annual bash.
Sweating over his speech, however, is likely something Briggs could do without — even if he was already on the finishing touches Tuesday, with days to spare. His theme? "Affirmation. Affirmation at home, in the community or places of worship; feeling affirmed and loved unconditionally, wherever you are."
The Capital Area Gay & Lesbian Chamber of Commerce's 20th Anniversary and Awards Dinner, Friday, April 9, runs from 6:30 to 11 p.m. at the Mandarin Oriental, 1330 Maryland Ave. SW. Individual, non-member tickets are $195, available online at caglcc.org.
Metro DC PFLAG's 13th Annual Honors Gala & Silent Auction, Saturday, April 10, begins at 6 p.m. at the Grand Hyatt Washington, 1000 H St. NW. Tickets start at $175, available online at pflagdc.org or by calling 202-638-3852. There is no cost for the youth event with Mike Manning, also Saturday, noon to 2 p.m., at the HRC Equality Forum, 1640 Rhode Island Ave. NW, co-sponsored by HRC, the Sexual Minority Youth Assistance League and the Youth Pride Alliance.