The Next Generation Awards 2010
Hyacinth Alvaran's story may have started in the Philippines, but her story is being told most forcefully in here in Washington.
"Security is not something I know a whole lot about," the 27-year-old said during her testimony to the D.C. City Council last winter in favor of marriage equality. "I grew up in a very chaotic and unpredictable life."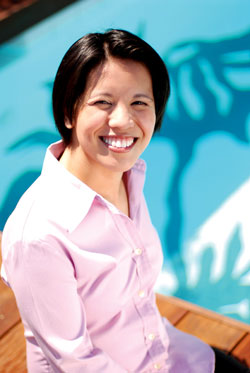 Hyacinth Alvaran
"I had a compelling story to tell about the similarities among our struggles," she says now. "What it's like for a family to be separated because of legal barriers or economic barriers. It's absolutely terrible."
For Alvaran, that meant saying goodbye at age 3 as her mother departed the Philippines for economic opportunity.
"[My mother] moved to New York to be a live-in nanny for a couple who worked in the financial sector," Alvaran says. "It was a pretty dark time because I'm an only kid and I pretty much emotionally raised myself."
On reflection, she's grateful for the sacrifice.
"If my mom didn't do that, I would be a domestic worker right now. My cousins who are my age are domestic workers. There's very little economic opportunity in the Philippines."
After her mother successfully brought Alvaran and her father to the states, they spent a few years living in the Bronx, before moving to Salem, Ore. Though the move may have helped Alvaran, coming to terms with her sexual orientation did not.
"I knew I was more attracted to girls," she says. "I wanted it to go away and it didn't."
Alvaran hit an all-time low as a teenager, after "falling in love" with a high school classmate.
"I couldn't deny my feelings anymore," she says. "I knew I had to deal with it. I was very depressed for a while, and suicidal."
Moving to Palo Alto, Calif., to study international relations at Stanford University brought her out of the darkness. She made new friends who supported her. It wasn't long before she found herself in love again — this time with a city.
"I was planning on leaving California because I wanted a change of environment and change of pace for a variety of reasons. I happened to be in D.C. with my relatives, and as I was waking down Connecticut Avenue … I saw the [Human Rights Campaign] store," Alvaran recalls. "They told me about the HRC building. I went to the building and I completely fell in love with D.C., fell in love with staff at HRC that I interacted with, and I knew that I was going to live here, work here and make a living here."
In 2005, Alvaran was rejected for a political assistant position with HRC, but that didn't deter her from making Washington her new home. She eventually landed an internship with the organization.
"At the end my internship, they luckily opened up this position for diversity assistant. I interviewed for it and got it."
Alvaran wanted to come out to her parents upon moving to Washington, but decided to delay the news after her mother was diagnosed with breast cancer.
"I waited for her to get better, but the stress was just so big on me that I needed to go to therapy. It was really helpful," she says. "Because of that resolve, I was able to come out to them.
"My mom was completely shocked. I called her and I told her, 'The organization that I work for is an LGBT civil-rights organization. I work there because I believe in the values that they embody, and because I'm also gay.' She just broke down and cried and hung up. I was crushed." Though at the time mother and daughter didn't talk for weeks, time has proven a healing force for their relationship.
In the five years that Alvaran has been living in Washington, she's established herself as one of the leaders of the local Asian/Pacific Islander LGBT community. Before being tapped for the Next Generation Award, her work was recognized by Pride & Heritage, the organization that sponsors the annual celebration of the Asian/Pacific Islander LGBT community.
She's currently serving her third term as co-chair of Asian Pacific Islander Queer Sisters (APIQS).
"I'm planning to step down this year," says Alvaran. "It's time for other people to take up leadership."
Presently, she's hoping to organize an all-day conference on May 22, working with A/PI Queers United for Action DC and other groups, about "building community around identity."
Says Alvaran: "I want to see us living happily and openly. I think that's really hard because I'm still struggling with living openly when, for example, I'm talking to another Filipino woman who reminds me of my grandmother or my aunt.
"I think if we grew up feeling ashamed, then we don't want to be in those spaces again. And we leave, and we don't want to come back."
Alvaran has no intention of looking back.
Instead she's looking ahead to a future with her partner Jen Nguyen, whom she met three years ago in D.C.
"When marriage equality happened [on March 3], I felt like I was actually included for the first time," she says, adding, "I don't have plans to get married anytime soon, but it was like a weight was lifted off of my shoulders. It was so empowering. I just felt so free and I walked around the city with this confidence that I hadn't had before."