Harvey Fierstein in Fiddler on the Roof? At first, you may hope he's playing the matriarch Golde in drag. Or better, a drag Yente, the matchmaker. (Has he got a match for you!) But Fierstein as the show's tradition-minded lead character and patriarch Tevye? Oh vey, you cry, "Tradition! Tradition!"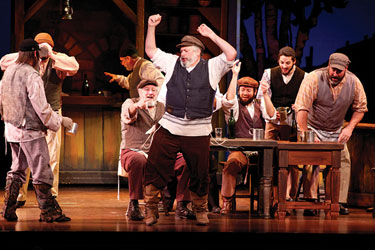 Non-traditional: Fierstein
(Photo by Joan Marcus)
Screw tradition. Because in the end, the gravely voiced gay actor wins you over as Tevye. He'll no doubt match or even exceed your expectations in the role, playing it both straight and touching when the script calls for it, and hamming it up when it makes sense.
Sure, you'll have your gripes. Fierstein isn't much of a singer. And though he doesn't ruin it, exactly, chances are good you'll never again want to hear his rumbling, self-parodying "If I Were A Rich Man." The whole production might grate on you until sometime deep in the long first act. There's a dated sensibility to Fiddler, and early on you may question the lingering cultural relevance of the show, about the struggles of one Jewish family and community, amid a larger Russian context a century ago, to keep tradition.
A Jewish Sound of Music of sorts and one of Broadway's cash cows, Fiddler on the Roof was first staged in 1964, and the current touring production at the National Theatre was inspired by the original, directed and choreographed by Jerome Robbins. Robbins's original choreography, particularly the bar celebration and the raucous wedding scene, inspires awe to this day. Fierstein is the indisputable star here, perhaps even more than any previous Tevye. After a performance last week, the audience didn't rise to its feet in ovation until Fierstein emerged last among the large cast of 30. People genuinely seem tickled by the undeniable irony of his casting. Admittedly, few others come close to stealing the limelight. Hannah Delmonte's decrepit Grandma Tzeitel and Scott Leiendecker's giddily nightmarish Fruma-Sarah both leave a lasting impression. Meanwhile, Susan Cella portrays Golde as sensitive and strong, a touchingly realistic mother concerned about her daughters' welfare but ultimately without much power to affect things. Mary Stout as Yente, like most of the cast, gives us little more than a perfunctory performance. You'll laugh at her, but you won't marvel.
The casting of Fierstein bucks tradition in a modern-day way that seems to match what the show's creators were going for all along. The show is intended to make you feel conflicted about tradition. Every time Tevye flouts tradition, begrudgingly accepting his eldest daughters' marriages, karma bites back harder. Are our current norms of marrying for love really that much better than arranged marriages of yore, the show asks, or are they just selfish, contributing to the ruin of community? Well, anyway life — and the show — goes on. Life is its own kind of tradition. Ain't that enough?
Paul Scott Goodman once found himself talking to God so much, he considered changing his name to Tevye — "or Harvey Fierstein." "Are You Listening?" Goodman begs of God in a number from his tedious one-man, music-driven show, Son of A Stand up Comedian, now at Metro Stage.
No doubt God — like the audience — would be tempted to answer, "Shut up."
Goodman, you see, is trying to interest us in anecdotes from his life as a struggling Scottish-Jewish musician making his home and starting a family in New York, and trying to escape his father's shadow as a failed comedian. Turns out, even the Scottish Jew angle isn't very compelling. (It is more an accident of migration.)
FIDDLER ON THE ROOF



and a half
To May 2
National Theatre
$51.50-$96
202-628-6161
nationaltheatre.org

SON OF A STAND UP COMEDIAN

To May 9
MetroStage
$45-$50
703-548-9044
metrostage.org
Goodman wrote the rock musical ROOMS, nominated for multiple Helen Hayes Awards after MetroStage premiered it a few years ago. It's principally on that basis that the scrappy Alexandria theater company agreed to stage this misguided production, directed by Signature Theatre's Michael Baron with a book co-written by Goodman's wife, Miriam Gordon. The team tries to dazzle us, chiefly through witty wordplay, cute rhymes and other literary tricks. Meanwhile, Greg Holloway is largely wasted as the guitar player 's sidekick on drums. Holloway goes long stretches without doing much more than offer a couple taps.
Ultimately, so little of what Goodman has to relate here is about him, as opposed to the people around him — his wife, his father, his mother-in-law, his daughter — that they come across as far more interesting. And it makes it almost comical that he's nonetheless the star of the show — the only person onstage besides the speechless Holloway.
Rarely has 70 minutes seemed so interminable. And then, when Goodman comes back out for an unannounced encore and threatens to lead an extended Springsteen jam, to "give you your money's worth," you can't help but ask yourself: "Why, God, why?"