Did you hear the one about Kaki King collaborating with Miley Cyrus? "That would be hilarious," laughs King. "I mean, of all people."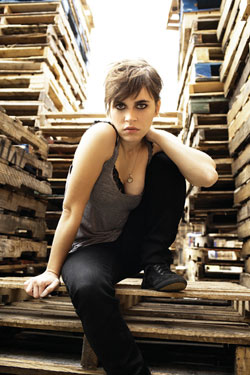 Kaki King
(Photo by Gregg Delman)
In fact, King collaborated last year with überpop producer Timbaland on his Shock Value II album. The lesbian guitar virtuoso created the bass line and some top notes for what would become the chirpy track "We Belong to the Music," which does feature a certain teen-pop sensation.
Turns out, a collaboration with Timbaland is just the most recent of several unexpected collaborations in King's eight-year music career. She's contributed music to films such as Into The Wild and August Rush. It's actually her hands you see when the protagonist strums the guitar in Rush. "It was fun playing a little boy," says the 30-year-old King. "It felt very normal." Meanwhile, NPR has had a couple of her compositions in heavy rotation between news segments for several months.
Throw in recordings with Tegan and Sara and the Foo Fighters, plus the prolific singer-songwriter's own five artist albums, and it becomes clear: If you haven't come across the ubiquitous King's music in some fashion — you haven't been listening.
King has a signature percussive guitar sound in the indie-rock mold, but her songs often simmer and smolder in a wide-ranging cinematic style. In concert, King and her trio "try to occupy all types of sound space, anything from extremely quiet and delicate, to absolutely rocking out as hard as possible, to me playing solo acoustic guitar, to me looping, playing dance music." For next week's debut as a headliner at the 9:30 Club, King naturally has an unexpected collaboration in store.
"We're actually having a very surprise special guest, someone I've admired for a very long time," she says. "He's going to be sitting in with us at the show."'
Kaki King performs Thursday, April 29. Nightclub 9:30, 815 V St. NW. Tickets are $20. Call 202-265-0930 or visit 930.com.