After Henry V and Richard II, dishes as rich as pheasant, The Shakespeare Theatre Company offers the clever 17th century confection, Corneille's The Liar. Under the astute direction of Michael Kahn, this is an exceedingly good-natured, witty and amusing entertainment brimming with brain-tickling wordplay. Of course, it is also David Ives's positively shameless adaptation, and though the jazzy flow and plethora of modern references makes it highly accessible, not everyone will appreciate Ives's insistent "voice," the occasional nod to sitcom humor, and the substitutions. For some us there is something rather special about "getting" a 17th century joke.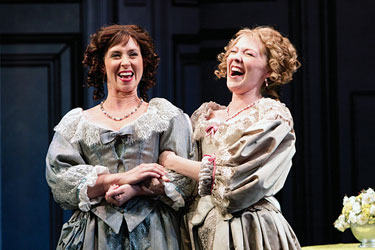 The Liar
(Photo by Scott Suchman)
Still, putting such curmudgeonly thoughts aside, this veritable whirlwind of vocal swordplay, hi-jinks and silliness is driven largely by an irrepressible Christian Conn as Dorante, a plumed-and-booted outsider determined to lie his way through French high society. With a sardonic foot in both the 17th and 21st centuries, Conn is gleeful (almost to the point of straining his voice), absolutely reveling in the speed, vocal dexterity and irony of the role. He works the ensemble and the audience with equal pleasure and skill, his only foible at times being a tendency to look a bit too much like the cat that got the canary. He could try for a bit more élan. Still, with a character as pleased with himself as is Dorante, this is probably splitting hairs.
As Dorante's manservant and side-kick Cliton, Adam Green has no trouble keeping up with the jet-fueled Conn, only occasionally lapsing from his razor-sharp comic timing and delivery. As Dorante's rotating love interests, Erin Partin as Clarice and Miriam Silverman as Lucrece, sparkle with an intuitive feel for the piece though they are the two who teeter most closely to the sitcom abyss. Put another way, when you can imagine Kelly Ripa in a role, you know you're in trouble. Still, Partin, in particular, gives her gadfly some genuine personality, to the point where one cannot help but imagine her the better partner for the volatile Dorante. Considering Ives's liberties, why didn't he take a few of the dampers off Lucrece?
Well-suited to such gentle comedy is David Sabin as Dorante's father Geronte, who between his American-rustic accent and his straight-up comic timing provides a very accessible touch.
Colleen Delany, searingly memorable from Titus Andronicus, delivers solid comic turns as servants Isabelle and Sabine, though she does seem somewhat wasted here. Rounding out the ensemble, Tony Roach delivers a rather too convincingly angry Alcippe, Clarice's disgruntled suitor, while Aubrey Deeker gives a certain color to the small role of Philiste. But quibbles aside, director Kahn sets this ensemble spinning like a top.
Diametrically opposed in mood and pace is Metamorphosis, Synetic's interpretation of Kafka's seminal and much-studied novel of the same title. Adapted and directed by Derek Goldman, this is a departure from Synetic's usual dance-oriented physical theater, but it nevertheless shares — indeed, emphasizes — Synetic's unique ability to blend mood, atmosphere and the contemplation of ideas. Narrated, acted and mimed to a soundscape more intellectually than melodically based, this piece is not for everyone. But given a chance, its weaving of words, movement and sound offers a unique way of (re)experiencing a book we thought we knew.
With an imaginatively rendered set largely restricted to a single vantage-point on one room, we watch as the repressed Gregor awakens to find himself transformed into an insect. As Kafka narrates from within the room, Gregor's family reviles and rejects him, although his sister Greta eventually takes some pity and tries to feed him. Gregor sinks ever deeper into isolation and illness, while his family merely suffers his presence in the house. Captured potently here are the empty hours and wistful melancholy of Gregor's life in his room; his entrapment and his hunger to be loved in his time of need. As we watch the physical, visceral existence of Gregor, snippets of information from the narration hint at the metaphorical aspects of Kafka's work — what it meant to be Jewish in early 19th century Europe, what it means to be isolated by illness or anomaly.
THE LIAR




To May 23
Lansburgh Theatre
$41-$87
202-547- 1122
shakespearetheatre.org
As the insectified Gregor, John Milosich, wordless if not noiseless, very effectively embodies this creature-entombed man. He exudes Gregor's plaintive need with a kind of understatement that prevents caricature – and thus he keeps us interested and involved. Milosich's movements are often clenched and taut – suggesting both the insect and the concertinaed soul of Gregor. His interpretation is thought-provoking rather than maudlin and is therefore effective.
As Kafka, Clark Young is engaging yet never obtrusive. His voice and persona resonate reasonably well with the piece. As Felice Bauer and then the Lady in Furs, Caitlin Cassidy is fluid and memorable as the mysterious female presence that haunts Gregor; the reminder of the warm and sensual comforts he has lost forever. As sister Greta, Catalina Lavalle ably exudes the young woman's conflict as the urge to care for her brother is overcome by revulsion.
KAFKA'S METAMORPHOSIS


To May 22
Rosslyn Spectrum
$40-$45
synetictheater.org
The rest of the ensemble works earnestly within the constricted text but Goldman keeps them more like puppets than people which pushes them toward ineffective parody at times. And so this is a provocative, flawed piece. But there is nevertheless something to be said for challenging one's concept of theater, especially when it clocks in at 90 minutes.