Maybe you went to a bittersweet party to watch the final episode of HBO's Sex and the City. Did you hit the theater eagerly the opening weekend of the ladies' return, this time on the big screen? I know I did.
Perhaps you even have a favorite moment from the show or the movie. I'm tickled every time I see the scene where Samantha figures out that placing her (unused) vibrator next to Miranda's baby, Brady, quiets his crying. Hilarious!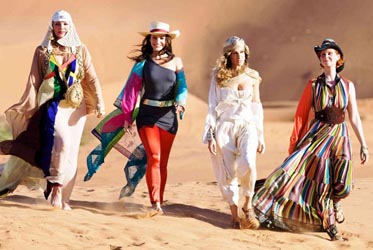 (Photo by Warner Brothers)
Considering I'm already a fan, you can imagine how excited I am about the movie sequel, Sex and the City 2, set to release May 27. This time, the storyline has the fab four heading to Abu Dhabi — how glam! The capital of the United Arab Emirates has possibly more bling than any other city on earth. My mind reels with the possible cosmopolitan plotlines made all the more exotic by the hot locale.
I've seen the trailers, so I know I can expect lots of Samantha cleavage poolside and Miranda hooting at hot men in bathing suits. There will be dunes and camels and shopping in souks. After that, I just have to let my imagination run wild.
First, upon landing in the U.A.E., security finds traces of a joint on the bottom of Carrie's Manolo Blahnik and she's sentenced to four years in prison. What a hoot! I know it's a case of art imitating life, considering that's what happened to Andrew Brown, changing planes in the U.A.E.'s Dubai Airport on his way back to his native Britain from Ethiopia. During his layover, those crackerjack airport security boys detected .003 grams of cannabis on the underside of his shoe — an amount invisible to the naked eye — according to the BBC. But all's well that ends well. Brown was only detained a few months before he was pardoned.
The ads for the new movie also show Carrie's old flame, Aiden, back in the picture. Maybe she runs into him after she's pardoned? That would explain her deep longing for some male companionship. I hope they didn't write in a public, passionate kiss, though. The movie's going to start to drag if she ends up back in prison, as was the case for two 20-something Britons convicted of kissing on the mouth in a restaurant earlier this year, putting them on the wrong end of the country's decency laws, also according to the BBC. At least they only have to serve 30 days. Although, in a country where "consensual dishonor" is a crime, Carrie's marriage to Big might add an adultery penalty. Spicy stuff!
The grand finale could be gay pal Stanford's wedding. The movie trailers seem to show that Stanford is tying the knot! I'm guessing that's a New York part of the story, rather than an Abu Dhabi climax (which is also slang for a very disappointing premature ejaculation), considering the U.A.E.'s disposition toward big gay parties.
In 2005, the Associated Press reported, U.A.E. authorities arrested about 25 gay men at a same-sex wedding. From that report, the wedding party "could face government-ordered hormone treatments, five years in jail and a lashing." Oh, my.
Following a similar instance in 2004 — apparently these are not isolated cases — Abdul Hamid al-Kumaiti, a prominent attorney in the country, told AP, "There are so many others like these guys. The police and rulers need to do more than just lash them and let them go."
Indeed.
And the makers of Sex and the City 2 need to do better than promote a country that refused to even allow production to take place in the U.A.E. Multiple sources say the word "sex" in the title was problematic, to say nothing of this franchise's once women-empowering, gay-affirming flair. If you want a touch of the Arab exotic, follow the filmmakers' lead and let Morocco be your U.A.E. stand-in.