"You've got to let the story in, let the silliness wash over you until you giggle," says Coy Middlebrook, director of Little Shop of Horrors. "I don't think we giggle enough."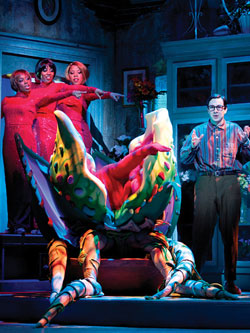 Little Shop of Horrors
(Photo by T. Charles Erickson)
You'll giggle plenty with Little Shop of Horrors, the spoof on science fiction and musical theater first produced off-Broadway in 1982 but best remembered as a 1986 film. Middlebrook's aim in reviving the pop musical, set in a struggling Skid Row flower shop, was to add some poignancy and give it relevance to today's troubled times.
"It's very much about the human condition, about how ambition, when turned into greed, is the ruin of us all," says Middlebrook. "We're honoring the current struggle that Americans are in with this material but we're also giving opportunity to just let go and laugh."
One of the challenges with the show, now at Ford's Theatre, is to keep it from veering into camp. "If it gets too campy it falls flat," says Middlebrook. "Because the heart of the piece is very tricky to find and capture."
The 42-year-old grew up wanting to become a dancer. But there was no place to dance in Chico, the California town where he grew up. So while in junior high he turned to acting and choreographing at the nearby state university's theater department. "It sounds dramatic, but theater really did save my life as a young gay boy in rural Northern California," he says. "I could be myself and grow confidence and build character."
In recent years, the Los Angeles-based director has worked on plays at various theaters across the country, including Big River and Shenandoah, both at Ford's. He's currently writing a new musical as well as a screenplay.
Little Shop, says Middlebrook, "is crafted so well and so smart, but it's a beast of a show. Just because it has 'little' in the title…."
And it's true — there's really nothing little about the production at Ford's, from the ever-growing carnivorous plant, Audrey II, to the big-budget-caliber cast to the production's mechanized revolving stage, unlike any Little Shop set you've seen before.
As silly as it sounds, Middlebrook has harnessed the beast at Ford's.
Little Shop of Horrors runs to May 22 at Ford's Theatre, 511 10th St. NW. Tickets are $20 to $52. Call 202-397-7328 or visit ticketmaster.com.