Defense Secretary Robert Gates and Adm. Mike Mullen, the chairman of the Joint Chiefs of Staff, sent a letter to the chairman of the House Armed Services Committee on Friday, telling him "in the strongest possible terms" that the Defense Department "must . . . be allowed the opportunity to conduct a thorough, objective, and systematic assessment of the impact of such a policy change" and that they therefore "strongly oppose any legislation that seeks to change this policy prior to the completion of this vital assessment process."
The letter came in response to a request from the committee chairman. Rep. Ike Skelton (D-Mo.), that was sent on April 28 asking Gates for his "views and position on the advisability of legislative proposals that may impact the 'Don't Ask, Don't Tell' policy."
Writing that the Department must "develop an attentive comprehensive implementation plan" prior to any legislative action, Gates and Mullen also told Skelton that they would "provide the President and Congress with the results of this effort in order to ensure that this step is taken in the most informed and effective manner."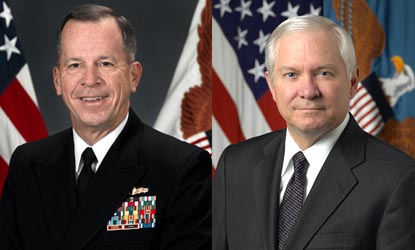 Adm. Mike Mullen and Defense Secretary Robert Gates
White House spokesperson Shin Inouye said in a statement that the administration remained committed to repealing the DADT policy: "The President's commitment to repealing Don't Ask Don't Tell is unequivocal. This is not a question of if, but how. That's why we've said that the implementation of any congressional repeal will be delayed until the DOD study of how best to implement that repeal is completed. The President is committed to getting this done both soon and right."
The Human Rights Campaign (HRC) responded quickly to the letter from Gates and Mullen, with President Joe Solmonese saying in a statement, "Today's letter from Secretary Gates and Admiral Mullen to House Armed Services Committee Chairman Ike Skelton flies in the face of the President's commitment in the State of the Union address to work with Congress to repeal the discriminatory 'Don't Ask, Don't Tell' law this year.
"If the President is going to fulfill his promise it is essential that he address this contradiction immediately," Solmonese continued. "It is inconceivable that the Secretary of Defense would so blatantly undermine the Commander-in-Chief's policy commitment."
The letter from Skelton to Gates noted that he "expect[s] this issue [of DADT legislative proposals] will be raised at a number of junctures throughout the [National Defense Authorization Act] process."
Gates and Mullen, in their response, wrote, "A critical element of this effort is the need to systematically engage our forces, their families, and the broader military community throughout this process. Our military must be afforded the opportunity to inform us of their concerns, insights, and suggestions if we are to carry out this change successfully."
Solmonese noted that this concern could be accommodated in a legislative repeal, saying, "There is no reason that Congress cannot move forward with repeal while the Pentagon's review of how – not if – to end the ban on open service continues apace. As part of the legislative repeal, Congress can provide additional time to the Pentagon for a careful and thoughtful implementation of this change to the law."
The comments are the most aggressive effort from the Gates and Mullen thus far to put off the legislative action being sought by LGBT advocates. On March 25, Gates told reporters, "'I do not recommend a change in the law before we have completed the study. . . . Doing it hastily is very risky." At the time, Mullen said that he echoed the secretary's statement.
The White House did not respond to a request for comment. Skelton's office said that he would have no comment today because Skelton was unavailable back in Missouri.