NOTE: This story has been updated to include a response from Mayor Adrian Fenty's office.
The Gay and Lesbian Activists Alliance of Washington D.C. is demanding answers.
Why has Adrian M. Fenty, mayor of Washington D.C., honored Regina Griggs, executive director of Parents and Friends of Ex-Gays & Gays (PFOX) with an appreciation certificate?
The certificate — dated Nov. 16, 2009, and signed by Fenty — surfaced on PFOX's web site, attached in a press release on April 28.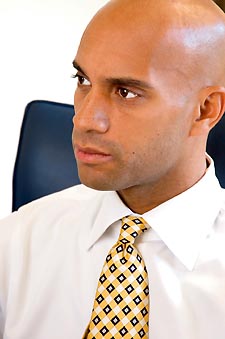 DC Mayor Adrian Fenty
Photo by Todd Franson
The certificate was awarded to Griggs "In recognition of your dedication, commitment, and outstanding contributions as Executive Director of Parents and Friends of Ex-Gays and Gays."
PFOX's April 28 press release praises Fenty for the honor, and quotes PFOX president Greg Quinlan.
"Regina has served as executive director without pay. Instead, she prefers that donations be used to develop resources for families and teens, to promote unconditional love for all regardless of sexual orientation, and to seek equal access and protection for the ex-gay community," Quinlan says.
GLAA is not taking the news lightly.
In an open letter addressed to Mafara Hobson, spokesperson of the mayor's office, Rick Rosendall, vice president of political affairs for GLAA, says: "PFOX is notorious as a purveyor of junk science which constitutes an ongoing slander against gay people.
"GLAA in the past has defended PFOX's First Amendment right to express its noxious views, but PFOX certainly does not deserve any honor or recognition from our Mayor."
Rosendall goes on to request three things: an explanation of the honor, a rejection of the "ex-gay" movement from Fenty, and a description of what Fenty plans to do to undo the perception that he approves of PFOX's mission.
"Given the Mayor's record of support for gay families," Rosendall adds, "it is painful to see him honor someone with the pernicious record of a Regina Griggs."
On Thursday morning, Fenty's office released a statement calling the appreciation for PFOX an error.
"A staff level error was made when the request for the certificate in question was fulfilled. We apologize for the error as it runs contrary to the Mayor's vision of a more open and inclusive city."
The statement also noted Fenty's "ardent support" of the community and "his championing of the Marriage Equality legislation which he signed into law."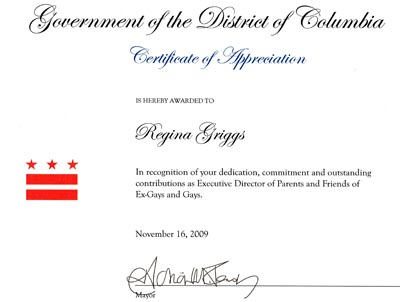 A certificate of appreciation to ex-gay activist Regina Griggs from D.C. Mayor Adrian Fenty