On your marks. Get set. Wait!
That is, if you live in D.C., Maryland or Virginia. If you lived in, say, Ohio, that appliance rebate could be in your pocket by now. Remember "cash for clunkers"? A similar federal program is ready to offer incentives to replace that clunking refrigerator or similar electricity-hogging appliance with an efficient "Energy Star" qualifying appliance. Taking advantage of the program, however, may be a little trickier than its automotive predecessor.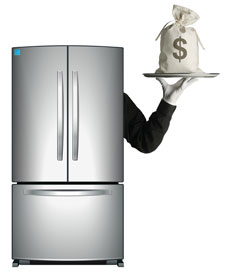 With the "Car Allowance Rebate System" (CARS), about $3 billion was doled out to car buyers in July and August of last year. It was a national plan with consumers' paperwork largely prepared by the auto retailers. Whether the program was good for the economy or the environment, there's no doubting it was popular. Congress allotted additional funds for the program and the money was still gone months ahead of its projected end-date of November 2009.
As with CARS, the appliance-rebate program shares having a limited pool of money, and the mission of helping the environment and economy. The differences are that finite funding has been allotted on a state-by-state (or district or territory, as the case may be) basis, and that each jurisdiction will apply the funds as it sees fit, within guidelines.
The details have yet to be unveiled in D.C. and Virginia, while Maryland is offering a fairly comprehensive look online, but all programs are due to start soon. The amounts allotted have already been published. For D.C. consumers: $568,000; for Maryland: $5,405,000; and in Virginia: $7,454, 000.
"It's like the 'cash for clunkers' program — and they ran out of money for that pretty quickly," warns Bobby Croghan, past residential chair of the D.C. Metro U.S. Green Building Council, and owner of Crogs LC, an interior-design firm focused on reducing residential and commercial properties' carbon footprints.
And while the money running out rapidly is one concern, the other is figuring out how to get your rebate. In Maryland, it appears the program will be operated via a consumer's electricity supplier. There are five electric-utility companies in Maryland, each able to set its own guidelines for the rebates. So if you're hoping to score a rebate on a new refrigerator, the rebate documents go to your power company, which doesn't care about what you did with the old one — unless your power company is Alleghany Power, which requires you to recycle the old fridge. Still, you get an extra $35 for proving you recycled it. But BGE and SEMCO customers will get an extra $50 for recycling. And for buying that energy-efficient fridge, Maryland will give you a rebate of $100, as part of the federal-rebate program, on top of whatever else your power company gives you.
While the specifics might seem a little murky, Croghan has some simple advice for mastering the rebate schemes, no matter your locale.
"The government wants money put into the economy, and they want people to conserve energy," he says, adding that the stores have their own obvious motivation that you shop with them. To that end, they should be prepared with the paperwork. "All the stores should have the forms to give to you. Stores want to sell now, and they should have the information."
Back in Ohio, where the rebate program has already begun, Sears — the parent company of which, Sears Holdings, received a 100 percent HRC Corporate Equality Index rating in 2009 — submits shoppers' rebate documents electronically before they even leave the store. A spokesman for Sears couldn't comment on programs in our area since they've not yet begun, but the lesson remains the same: If you're buying an appliance, call the retailer ahead of time or check the company's website to be certain they'll be doing the heavy lifting in terms of paperwork, and possibly in disposing of your old appliance.
In the meantime, D.C., Maryland and Virginia governments all offer varying levels of information on their upcoming plans for the appliance rebates.
In D.C., visit the District Department of the Environment at green.dc.gov/green and hit the "ENERGY STAR Appliance Rebates" button to register for related e-mail alerts. The department advises that the D.C. program for refrigerators, dishwashers, washing machines and heat pumps should begin in May.
Maryland residents may visit the Maryland Energy Administration online at energy.maryland.gov and select "Appliance Rebates" for information on that state's program, set to begin on Earth Day, April 22.
In Virginia, the rebate plan is being managed by the Virginia Department of Mines, Minerals and Energy, with some details ava ilable at the department's website, dmme.virginia.gov. The Virginia plan is also set to begin "in late April."
So if any of your major appliances could stand to be replaced by a model that is harder, better, faster and stronger, the time to do your homework is now. The time to make the purchase is soon.
To sweeten the deal, Croghan notes, "Return of investment on a new Energy Star refrigerator — if yours is 10 years or older — it will pay for itself pretty quickly. That's even without the rebate." And assuming your tastes don't turn to that $10,000 commercial-grade goliath, he adds.