Doug Schantz, owner of Nellie's Sports Bar at 900 U St. NW, was robbed at gunpoint around 1 p.m. Monday, April 19, by two men. Though there was a scuffle during the robbery, Schantz was not injured and the robbers fled with a "small amount of money," Schantz says.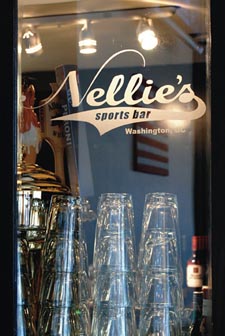 (Photo by Todd Franson)
"We were closed. Delivery people come in all the time and these guys came in behind me. I thought they were delivery people. One put a gun right in my face. I was on the phone. I said, 'Oh, my God. Oh, my God.' I started screaming at the top of my lungs, 'Help!'"
Schantz says he was trying to get the attention of two construction workers using a loud saw on the venue's second floor, who eventually heard Schantz's calls and rushed to his aid. At that moment, he says, the assailants grabbed a bag of small bills Schantz had been intending to place in the venue's safe. Schantz struggled with the perpetrators, knocking a baseball cap off the head of one of two robbers.
"I just wanted to get away from them," Schantz says. "I think that really scared them, that I wasn't passive. I didn't do it out of bravery — I just wanted to get away from them."
Schantz says several officers of the Metropolitan Police Department were on the scene in less than three minutes, adding that MPD officers were confident of solid leads in this case thanks in large part to extensive surveillance video at Nellie's. Schantz declined to describe his assailants in detail, preferring to allow MPD to release detailed descriptions once they've fully reviewed the video.
While Nellie's was closed Monday evening, Schantz notes the closure had nothing to do with the robbery. Coincidentally, it was the night of the employees' long-delayed holiday party.
"I made a quick speech. We had a fantastic time. We just have a really good group of employees. Tonight, it's business as usual with 'drag bingo,'" he said Tuesday.
Sgt. Carlos Mejia, head of MPD's Special Liaison Units, including the Gay and Lesbian Liaison Unit (GLLU), says the police will be releasing more information soon.
Anyone with information is asked to call MPD, at 202-727-9099 or 1-888-919-2746.
Yusef Najafi contributed to this story.