Two weeks ago, Rep. Barney Frank (D-Mass.) said the job protection bill that he is sponsoring in the House would be marked up and voted on in committee by this week. That hasn't happened, and, on Wednesday, April 28, Rep. Tammy Baldwin (D-Wisc.) put her "goal" for the timeline at "the next couple weeks."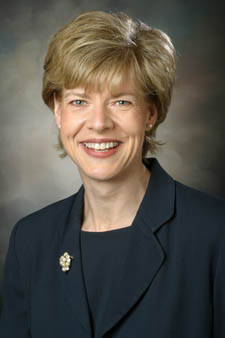 Tammy Baldwin (D-Wisc.)
In response to a question about the Employment Non-Discrimination Act, Baldwin told the attendees at an event on LGBT elder care held at the Center for American Progress that she and other members of the LGBT Equality Caucus "hope to deliver positive news to the leadership that we're ready and we should prepare to vote on ENDA in the next couple weeks. That would be my goal."
She added, "You know, I wish we had something on the calendar right now to show, but I hope that we will pretty soon."
Of the work the three openly gay members of Congress are doing to move ENDA forward, National Center for Transgender Equality Executive Director Mara Keisling said, "Representative Frank, Baldwin and [Jared] Polis [(D-Colo.)] are really throwing their hearts into this."
Frank's communication director, Harry Gural wrote in an email to Metro Weekly, "[I]t turned out that the process is taking longer than [Rep. Frank] anticipated.
"That's not unusual for Congress where the pace of legislation depends on many different factors," Gural wrote. "I would not read too much into the fact that the mark-up hasn't happened yet."
Baldwin, however, provided more specifics on Wednesday, saying of the LGBT Equality Caucus, "In particular, we're counting two votes: how many votes we'll have on final passage . . . but also, trying to predict what sort of vote turnout we would get if there were a particularly meddlesome amendment proposed by opponents to the legislation. We predict that there will be an attempt to do that."
Saying that the vote count is "pretty good," Baldwin noted, "we have a couple of people still on the fence" in regards to the second vote because they are "anxious about exactly what type of meddlesome amendment might be offered by opponents."
As Keisling said on Friday, April 30, "There's obviously a problem on whipping on a hypothetical." She added, though, that now is the time for "pressure" on Congress.
"I know that people are frustrated that we keep saying to keep calling. But, that's what works," she said. "Now is when they're talking about whether to run this thing."
Referring to discussions of public whip counts and "target lists," Keisling countered, "I just can't say this enough: The target is every member of the House of Representatives."
Keisling's group, NCTE, is the co-chair of the United ENDA coalition, which is a coalition of more than 400 state, local and national LGBT organizations and allies working to pass an ENDA that includes both sexual orientation and gender identity protections.
Gural echoed Keisling's comments, writing, "[A]s [Rep. Frank] has said in many ways and many times before, people should be doing what the AARP and NRA do – call their members of Congress."
Earlier in the week, a spokesman for the House Education and Labor Committee, which is considering the bill, said, "We haven't scheduled it yet," but added of Chairman George Miller, "He intends to get to it very shortly."
Polis's office did not respond to a request for comment.