If you don't have anything nice to say, the saying goes, come sit by me.
[title of show] is one of those fun but ill-mannered guests, the kind that would sit right down with a stiff drink and an overly full cocktail plate of waiter/actor delivered hors d'oeuvres. It would spend the evening dishing dirt and snickering about the other musicals. Even the musicals it hasn't actually seen.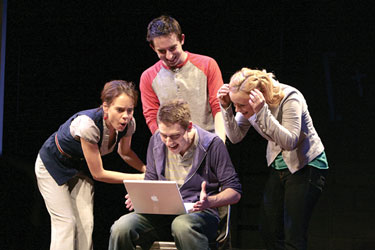 [title of show]
(Photo by Karin Cooper)
After all, if [title of show] was polite company it most certainly wouldn't have pulled the playbill for Glory Days – a kind of Signature Theatre roommate – from a box dedicated to cataloging "Broadway flops."
It most certainly, if it were the kind of musical to have been brought up appropriately, would not have urged its cast members to stare blankly at one another, trying to figure out just who, exactly, is Tracy Lynn Olivera? Or, if we were to get right down to it, if [title of show] were from the right side of the Starlight Express tracks, it would certainly not suggest that the mother of one of the show's characters masterba…
You get the idea.
No, [title of show] is as delightfully inappropriate and outrageously funny as one could possibly hope. It airs all the dirty laundry of the creative process, like the fact that the act of writing is sometimes a battle between bringing forth something staggering and brilliantly new, or surfing Internet porn and watching marathon reruns of The Bachelor. Or like the fact that to be a creative type almost certainly means having a day job — or several day jobs that often require the ability to balance full trays of catered dinners. Or a day job that should most certainly mean one has arrived (like being on Broadway) but is still a day job (like being on Broadway as a very underwater understudy for The Little Mermaid).
[title of show] is, as its conspicuous brackets might suggest, a less-than-thinky meta-musical. It's a show about "Two Nobodies in New York," Jeff (Sam Ludwig) and Hunter (James Gardiner), trying to write a musical in just three weeks that will get accepted into a theater festival. Pressed for an idea they decide to write a musical about two guys trying to write a musical, which means that they are two guys in a musical about two guys trying to write a musical about two guys writing a musical.
Meta, right?
Jeff and Hunter are joined in their efforts by "Secondary Characters" Susan (Jenna Sokolowski) and Heidi (Erin Driscoll). Heidi is on Broadway, a few floors down from understudying in that previously mentioned Disney musical production. Susan is, as she puts it, a "corporate whore" whose Ann Taylor suit smells oddly of hot-dog water. Oh, and there's also the pianist Larry (Gabriel Mangiante), though he doesn't really talk a lot.
[title of show] is an insider musical so insider that a glossary is included in the program. Wondering who the heck Mary Stout is? Dee Hoty? Remember Shields and Yarnell but not Henry, Sweet Henry or Got Tu Go Disco? Wracking your brain to remember why the name Dinah Manoff is familiar but absolutely certain you don't recall a 1994 Broadway production titled The Best Little Whorehouse Goes Public? Not to worry. You're in good company.
And speaking of good company, Signature certainly has put one together.
Strong applause goes to Gardiner who actually wrote the book for the tweaked Glory Days but stands gamely by as it's pulled from the flop pile. Gardiner has a strong voice and a wonderfully bright charisma on stage. He's called on to be goofy and footloose at one turn, channeling The Bill from Schoolhouse Rock's "I'm Just a Bill" one moment ("An Original Musical"), and becoming bracingly unlikeable the next.
He's well matched with Ludwig, another creative type with a day job. Ludwig's Hunter is a Wonder Woman-loving composer at heart but a Web designer by day. He's the capital "R" romantic heart of the musical, the artist who wants this to all go well no matter how little he wants to show it. Ludwig brings that vulnerability to the stage and, as grumpy and withdrawn as Hunter may be, makes us fall a little bit in love with him.
Even though [title of show] pretends to give Heidi and Susan their due with the upstart musical number "Montage Part 2: Secondary Characters" and t he dueling banjos "What Kind of Girl is She," Driscoll and Sokolowski leave no room for doubt that this is an ensemble piece. Driscoll has a voice that makes you miss a place you've never actually known. "A Way Back to Then" is homesickness brought to life with all the belt and sentimentality of your favorite Broadway cast recording.
[TITLE OF SHOW]





To June 27
Signature Theatre
4200 Campbell Ave.
$52-$76
703-820-9771
signature-theatre.org
In another time Sokolowski would be likened to a firecracker, bringing Susan to life with wit and an eye-catching spark. A wicked comic timing teamed with a gorgeous sense of humor that makes you wish she were your best friend. Sure, this is already a musical that would tell dirty jokes while sitting at the head table of a black-tie affair, but Sokolowski's Susan would be the guest trying to top it. To tell the truth, she'd probably succeed.
Signature Theatre probably doesn't need to worry that [title of show] will only be "Nine People's Favorite Thing." What it might worry about is Tracy Lynn Olivera catching wind that they're picking on her. We all saw her in Les Misérables. And I don't think she's someone to mess around with.