Sia Furler is honored to be Christina Aguilera's "bitch."
Furler, who records under her first name, just wrapped up work co-writing for Aguilera, as well as Britpoppers Natasha Bedingfield and Will Young. And she hopes it's all a harbinger of what's to come.
Sia, you see, is tired of the limelight.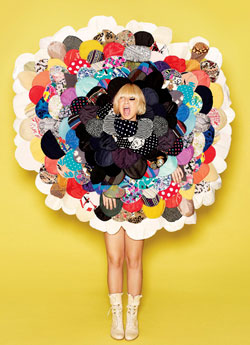 Sia
(Photo by RJ Shaughnessy)
"I can sing in the shower. I really don't need the accolades, you know? I'm not really built for it, not built for fame," says the 34-year-old with the appealingly elastic, quirky warble.
"All the people who've made their peace with or who actually like the attention can be the front people and I can just be their bitch," she laughs.
Sia first came to fame some five years ago, when her hauntingly beautiful, pleading song "Breathe Me" dramatically closed out HBO's Six Feet Under. Sia says the song, now a Hollywood soundtrack staple, "seems to have affected a lot of people who are suffering." At least implicitly, they're responding to Sia's own pain conveyed in the tender song, the first word of which is "help."
"The evening that I wrote it, I went home and overdosed on a bunch of Valium and vodka," she says. Instead of suicide, she committed sleep: "I didn't realize you couldn't die from Valium."
Sia has long since recovered and is now in a relationship with JD Samson of dance-punk trio Le Tigre. The two plan to become mothers. "I'm going to try and get spermulated in March of next year," says Sia. And who will the father be? "We've narrowed it down to four sperm donors."
Despite plans to concentrate on songwriting, Sia says she'll continue making her own albums intermittently, with occasional touring to select cities. Chances are, D.C. will continually make the cut. Sia has "many 9:30 Club stories." One time several years ago, she drank too much red wine before a late show. "By the time I got on stage, I was so drunk — it was the drunkest I'd ever been on stage," says Sia, who now abstains from drinking before a show. "I did one of those things where I nearly fell over and then like a toddler would do who's embarrassed about what just happened, I did it again and again to make it out like I meant to do it.
"The crowd is so good at 9:30. They're very forgiving."
Sia performs Tuesday, May 4. Doors at 7 p.m. Nightclub 9:30, 815 V St. NW. Tickets are $25. Call 202-265-0930 or visit 930.com.