The Supreme Court considered today whether a university can deny official recognition to a student group that refuses to abide by the university's membership policy for such groups. Under that seemingly low-key surface, however, lay complex questions about sexual orientation nondiscrimination policies and religious freedom in the public sphere.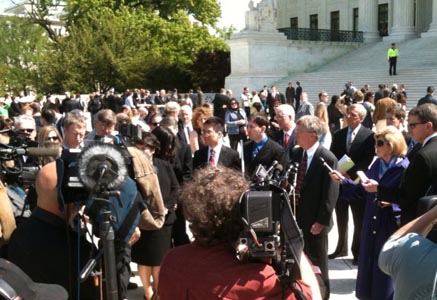 Christian Legal Society lawyer Michael McConnell speaks to press outside Supreme Court
(Photo by Chris Geidner/Metro Weekly)
Peppered by sharp questions from all sides, lawyers for the University of California-Hastings and the Christian Legal Society (CLS) spent a significant part of the hour allotted by the court disputing and debating facts about the type or longevity of the school's policy and whether and under what conditions a gay law student could be a member of the club.
That debate led Justice Stephen Breyer at one point to ask whether the case should even be before the court or whether the case should be dismissed because of the "unclarity" of the underlying facts, a prospect Michael McConnell, the lawyer for CLS, called "exceedingly unlikely" after the argument.
The court will be faced with deciding whether the school's policy is a "frontal assault" on the associational freedoms of religious students, as CLS argues, or a "reasonable" attempt to avoid "line-drawing" about the type of discrimination that is allowed by groups, as UC-Hastings argues.
Gregory Garre, arguing for the university, stated that CLS did not abide by the school's interpretation of its sexual orientation provision or what was called its "all-comers" policy implementing that provision. The "all-comers" policy, Garre explained, prohibits groups from prohibiting membership based on status or belief. McConnell countered in arguing for CLS that its leadership criteria did not apply to status, but applied only to conduct and beliefs – a position CLS argues is constitutionally protected.
Justice Stephen Breyer, a former professor, summed up McConnell's argument as, "You have to let them discriminate on the basis of belief." Breyer, however, countered that the university could determine that deciding what discrimination is allowed is "too much trouble" and adopt an "all-comers" policy like that adopted by UC-Hastings.
Justice Anthony Kennedy, on whose vote that case could hinge, made two statements that struck at the heart of the conflicting values at issue in the case, telling McConnell (and perhaps the other justices seeking his vote), "Religious organizations are different because religion is all about belief."
Mentioning the Rosenberger v. University of Virginia case in which a university was held to have engaged in unconstitutional viewpoint discrimination by refusing to fund a religious publication, Kennedy said, "You can cite Rosenberger, but I think this is different than that." Of note is the fact that Kennedy had written the opinion for the court in that case.
Justice Samuel Alito turned to another issue never quite resolved and heavily disputed today, asking about whether the policy was applied evenly across groups at the school. Although McConnell pointed to a couple of organizations that had apparently exclusionary bylaws, Garre later disputed that characterization.
Justice Sonia Sotomayor pointedly asked McConnell at one point, "Isn't that their choice" to decide "we don't want our students to discriminate"? Before McConnell responded, Justice Ruth Bader Ginsburg jumped in to note that her view was that UC-Hastings made that determination "not only among the groups, but within the groups."
McConnell responded that the purpose of the registered student group program at the school was to encourage a diversity of viewpoints that would be harmed by the all-comers policy.
"Note how destructive an all-comers policy" could be, McConnell told the justices, noting that an NAACP group could be effectively overtaken by those opposed to its mission.
The court has no set timeline for when it must issue a decision on the case, Christian Legal Society v. Martinez, but decisions for the term usually are all issued prior to the Fourth of July holiday.