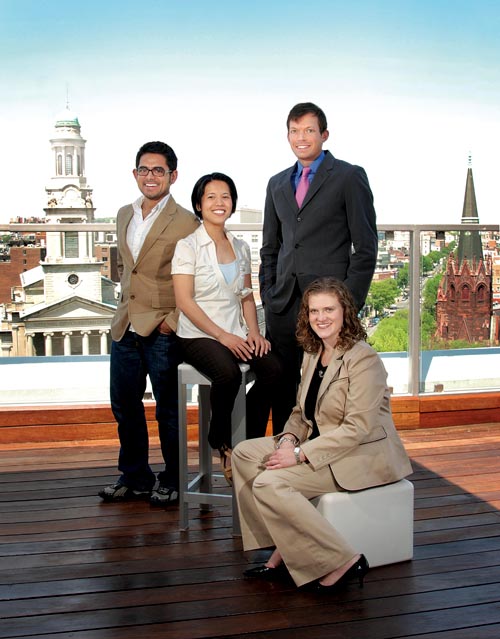 The 2010 Next Generation Awardees (left to right): Harjant Gill, Hyacinth Alvaran, Andrew Barnett, Amy Loudermilk
(Photo by Todd Franson)
The idea that youth is wasted on the young is the fallacy of someone with a misspent youth.
The reality is that youth is the renewal of our community, as valuable and necessary as the experience that comes with age. Fresh ideas, fresh perspectives, fresh commitment — all the things that keep the movement for LGBT rights vibrant and growing.
While we may live in a culture that idolizes the pursuit of endless youth in appearance, we don't live in a culture that fully values youth in accomplishment. As a magnet for the ambitious, the altruistic and the optimistic, Washington has more than its share of the younger generations who come to the nation's capital to make a difference but too often find themselves unsung.

Metro Weekly's Next Generation Awards recognize the accomplishments of LGBT activists, artists and leaders under the age of 30, as well as encourage their success in the future. From a field of high-achieving nominees, a panel of LGBT leaders representing a broad cross-section of the community chose four individuals whose achievements and potential made them truly representative of our community's next generation. (For a full listing of the Next Generation Awards selection panel, see below)
The four honorees — Hyacinth Alvaran, Andrew Barnett, Harjant Gill and Amy Loudermilk — have shown that with drive and dedication they can make a difference in the lives of others. And they'll keep making a difference, for this generation and the next.
---

The Selection Panel
Nominees for the Metro Weekly Next Generation Awards were solicited through an open call to the Washington metropolitan community. All nominees were reviewed, and winners chosen, by a selection panel of LGBT community leaders invited to serve by Metro Weekly.
Dana Beyer, vice-president of Equality Maryland and board member of the National Center for Transgender Equality
José Gutierrez, director of the Latino LGBT History Project
Theo W. Hodge, M.D., of Capital Medial Associates
Michael Kahn, artistic director of the Shakespeare Theatre Company
Paul Kawata, executive director of the National Minority AIDS Council
Donna Payne, associate director of diversity for the Human Rights Campaign
Hank Stuever, writer and television critic for The Washington Post