"A lot of people say, 'Man, you sound like you're going through it," says singer-songwriter Deborah Cox. You can sense the concern just from a glance at some of her singles' titles: "Who Do U Love." "The Sounds of My Tears." "Things Just Ain't The Same." "Did You Ever Love Me."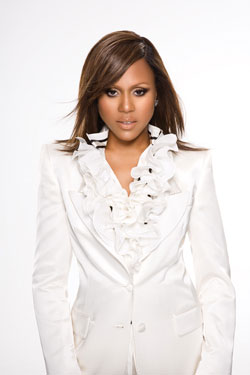 Deborah Cox
(Photo by Mike Ruiz)
"I'm a storyteller," says Cox. "I'm just a vessel, here to tell the stories of what people are going through. Some things I have been through and some things I haven't. But that's part of the acting of the voice. I try to give it my best."
The gay community has found Cox's best to be quite good. After a stint singing backup for Celine Dion in the early '90s, Cox, promoted by legendary music executive Clive Davis, garnered widespread pop and R&B fame a decade ago with hits like "Nobody's Supposed To Be Here" and "Same Script, Different Cast," a duet with Whitney Houston. But even today she remains a fixture at gay clubs and events, as well as on the dance charts, most recently with last summer's "Leave The World Behind."
Cox's passion for dance music is ingrained.
"I always say that that tempo is in my DNA," says the singer, who grew up in Toronto with parents from Guyana. "I'm Caribbean. I grew up listening to soca music, house music, reggae. I'm very used to that tempo, I'm used to that four on the floor. So when I start hearing that beat, there's just something that rises inside of me that just kind of takes over. So that's really the energy that people get from me when they see me perform."
Cox performs regularly at gay pride events and on the popular gay cruise company Atlantis Events. It's been years since she's been to D.C., but this Saturday, April 10, she'll perform here twice. First, she'll sing a short hits medley from a float at the Cherry Blossom Festival Parade. Later that night, she'll give a full performance at Town Danceboutique.
Cox, who "dabbled in musical theater" while growing up, made her debut on Broadway in 2004, taking on the title role in Aida. (She replaced Toni Braxton.) With Tony Moran, she even scored a dance hit, "Easy As Life," from her work in the role. Now Cox is ready for the Great White Way again.
"When I did Aida, I said that the next role that I do ultimately has to be something that I'm passionate about," she says. "And I've always been interested in originating a role."
She's currently gearing up to star as Josephine Baker in Josephine, a new musical in development with a planned staging on Broadway later this year.
"It's the story of the American icon from the '30s who was the first black major superstar," she says. "[Baker] left America to pursue her career and dream in France and ultimately became a big star over there. Her story has never been portrayed in a musical, so it's very, very exciting to me."
Also in the works: an artist album with fellow R&B stars Tamia and Kelly Price, dubbed the Queen Project. That's been delayed, however, because of conflicting schedules. Cox, for one, is busy juggling her work while raising three toddlers — ages 6, 3 and 1 — in Miami. She's raising them with her husband, her high school sweetheart Lascelles Stephens, who's also her musical partner and manager. About her two oldest: "My daughter sings great melodies, and my son plays piano and is very musical, and has an affinity for rhythms as well.
"I have a feeling that I'm going to probably be their manager at some point," she jokes.
"People have told me that they feel empowered, that my songs are so empowering," she says. "Even though some of the stories may have been about heartbreak, there's always some kind of triumphant-ness. A feeling of empowerment at the end of the day.
"I've heard many, many incredible stories," she continues. "People who have left abusive relationships [empowered with help from her songs]. When I was on a cruise, one guy said my songs had helped him to come out, and for him to be his true self." On that score, "Absolutely Not" is pretty hard to beat. "All the ugly words that I heard you say, made me stronger everyday. Now I live my life for me," Cox sings in the climax to the 2001 dramatic dance hit.
Still, she can't really explain her lingering appeal to gays. She compares it to her relationship with the Queen of Soul, at whose birthday party Cox was recently tapped to sing.
"It's like when I spoke to Aretha Franklin about what her songs had done for me and how they inspired me," says Cox. "She has no idea [why that is] because she's the one that's putting it out there, and we're the recipients of it. And so I think that's part of the secret of this whole inspiration. Just God's gift. That it is just that unknown, that pr ofound thing that we'll never know what it is. I don't know what it is about my voice or my personality or what it is about me that really resonates with the gay community. And I guess it's not for me to know.
"I'll just continue doing what I do and continue to show that I'm so, so appreciative and grateful for the support."
Deborah Cox performs Saturday, April 10, after 10 p.m. at Town Danceboutique, 2009 8th St. NW. Tickets are $20 at the door. Visit towndc.com.