GETTING INVOLVED with your university's LGBT group is "just one of those things you do when you get in college," says Natalia Cuadra-Saez. The 20-year-old lesbian, currently a junior studying history at the University of Maryland, is running for president of the school's Student Government Association.
Cuadra-Saez, who grew up in Rockville, got involved with UMD's Pride Alliance because of the "small group" programming that they offer: "There's one group in particular that I love called Women2Women."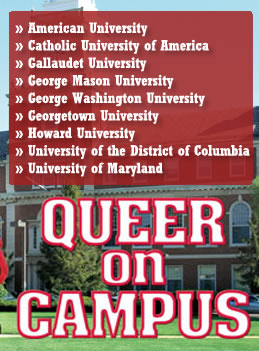 Other small-group meetings organized by the Pride Alliance at the LGBT-friendly university include Trans U, listed as "a discussion and support group for those who identify as transgender, gender queer, or otherwise feel restricted by conventional definitions of 'man' and 'woman'"; True Colors @ Maryland, "a group dedicated to addressing the social and political issues that face LGBT people of color"; and SafeSpace, "for newly out and questioning members of the LGBT community."
"The meetings are interesting because they target a specific audience so, Women2Women is for women who like women, and the facilitators of that group host a really good discussion every week," says Cuadra-Saez.
But it's not all about chatter.
UMD's Pride Alliance has a long list of events planned for the remainder of the semester. They include a self-defense workshop and a marathon of the Golden Girls.
These events follow the Pride Alliance's annual social "Pride Prom," which Cuadra-Saez recently attended.
"It's kind of imitating a high school prom," she says. "I've been going since freshman year. It's a really comfortable environment where you can dress however you want, and be whoever you want."
LGBT students can also take advantage of UMD's Office of LGBT Equity. Its mission is to "provide a wide range of information, education and support services regarding sexual orientation and gender identity or expression," while maintaining a safe and inclusive environment.
That's in line with the Pride Alliance, which Cuadra-Saez says offers something for everyone.
"For some people it's one of the only places where they can feel comfortable or accepted, or it can be a safe space for them to talk about certain issues that are affecting their lives," she says.
"It wasn't really hard for me to come out to my family," she adds. "I haven't gone through many of the struggles that a lot of people in the LGBT community have gone through. But for people like me, the Pride Alliance still offers a sense of community with things like Pride Prom, where you can just feel comfortable wearing a tie if you're a girl. You just feel comfortable being yourself."
For more information about the Office of LGBT Equity, call 301-405-8720 or visit umd.edu/lgbt/. For Pride Alliance, visit pridealliance.umd.edu.