IT ISN'T LIKE most universities in the area, The University of the District of Columbia — within the District, it is the only public institution of higher education. And unlike most of its peers, the rule is commuter students only. Living on this campus — just above the Van Ness Metro Station — is just not part of the mix. Even in this no-nonsense environment, however, there is still room for the LGBT affirmation.
Among the long list of student groups is the LGBT Support Association. Jay Morrow, UDC's webmaster and a 37-year-old lesbian, is the group's advisor. She says that despite the UDC's differences from more conventional universities, the need for community is the same.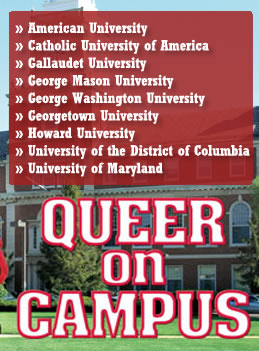 "It's important, but we deal with a different dynamic," she says, adding that the group will sometimes be very energized, other times quiet — though always present, regardless — depending on the mix of students during a particular semester. "We have to reach these students while they're on campus. It's hard to get a captive audience. We have a lot of non-traditional students as well, so we're a little more challenged."
For those students who do get involved, there are monthly workshops on various topics, as well as a component called "open forum," which acts like a support group.
As for the gay-friendliness of UDC's campus, Morrow says it's LGBT students needn't think twice.
"I'm open and out. The climate is very open, very affirming."
For information about the LGBT Support Association, call UDC Student Life at 202-274-5900.