While the status-hearing exchange between attorneys in the Robert Wone case remained civil, there was an element of chaos.
Inside D.C. Superior Court Judge Lynn Leibovitz's courtroom on Friday, April 23, there was discussion of blood splatter, stab wounds and witnesses. Leibovitz worked to determine what evidence the prosecution and defense would be using, and what they will be omitting.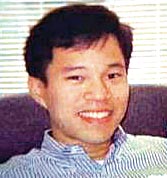 Robert Wone
"We described Friday's hearing as housekeeping, and the discussions of metaphysics and all that, all of that basically said, what we have to do is set one more hearing on May 5," says Doug Johnson, one of the four local gay men analyzing the trial for "Who Murdered Robert Wone?" blog.
"[It's] going to be a long kind of court session about what evidence gets in trial, and what evidence doesn't."
Wone, a 32-year-old attorney living in Oakton, Va., was found dead on Aug. 2, 2006, from stab wounds inside the Swann Street home of prominent local gay attorney Joe Price, his partner, Victor Zaborsky, and their then-roommate Dylan Ward. All three men face obstruction of justice charges for allegedly tampering with the crime scene. No one has been charged with killing Wone.
Johnson says Leibovitz has taken a "no-nonsense" approach in moving the status hearings along while keeping the May 10 trial date, since taking on the case in January. In that time, he says, the prosecution has honed its argument against the three defendants: "That the Swann Street housemates comprise a family that will close ranks and protect their own, even if that means interfering with the investigation, or obstruction of justice. They will argue that there is clear evidence about how [Wone] died and how the crime scene was altered."
The final status hearing regarding the Robert Wone trial is set for May 5. The trial is slated to begin on May 10.