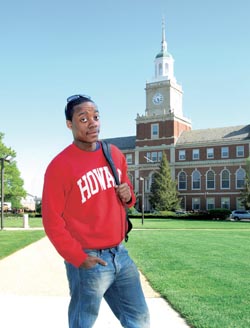 Amari Ice of Howard University
(Photo by Todd Franson)
It was not so long ago that a gay-friendly campus was one harboring a frat house that would allow a guy with an earring. Today, particularly in the D.C. area, there are myriad hues of the diversity rainbow to be found. In many instances, the challenge is not in finding diversity, but in deciphering the various acronyms employed on various campuses.
GLBTA? The "A" is for ally. If you're not familiar with the rest — gay, lesbian, bisexual, transgender — you may need to get yourself to one of the campuses offering queer studies coursework to get up to speed. If you spot a "Q," it's either for "questioning" or "queer." Or both. "I" is intersex.
But don't get hung up on the acronyms. After all, academia at its best is for learning and exploring, not filling in the blanks. What follows is Metro Weekly's exploration of some area campuses and their queer climates.