Roscoe Boyd, vice president of the Youth Pride Alliance, organizers of the annual Youth Pride Day celebration at P Street Beach, confirmed today that the event will be postponed.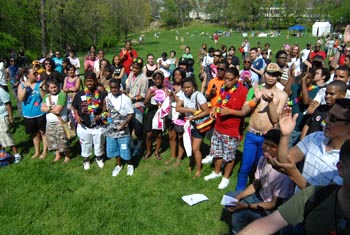 Youth Pride 2009
(Photo by Ward Morrison)
Originally scheduled for Saturday, April 24, the threat of inclement weather has prompted the Youth Pride Alliance to employ the event's "rain date," Saturday, May 1.
"Everything in terms of time, location and the after-party at Fly Lounge are still the same," says Boyd, explaining that the park rangers managing the P Street Beach site, advised the group to postpone this 14th annual Youth Pride Day because of expected rain.
With more cooperative weather, the May 1 Youth Pride Day should run from noon to 5 p.m. P Street Beach is located below the intersection of 23rd and P Streets NW. The Infatuation dance at Fly Lounge, 1802 Jefferson Place NW, will follow, running from 5 to 9:30 p.m.
For more information about the Youth Pride Alliance, visit youthpridedc.org.