Tyrone Hanley has lost his memory. Not all of it, just the hours between sometime Friday afternoon, April 30, to the next day when he awoke in bed at George Washington University Hospital. But while the memories are missing, he's sure of one thing: "For a brief moment, I must've been terrified."
His certainty is reinforced by the scars he now has on his forehead and thumb. The stitches were removed late last week.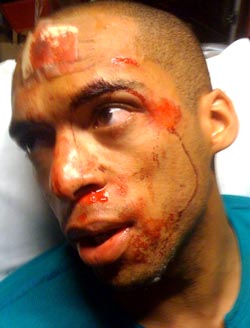 Tyrone Hanley
(Photo by Caeb Colravy)
Hanley, 27, is a familiar face in the community as former president of the Youth Pride Alliance, as well as his current position as the HIV-prevention manager at the Sexual Minority Youth Assistance League (SMYAL). Jim McEnerney, however, hadn't met Hanley before that night, when McEnerney and his boyfriend dined on the terrace at Skewers Restaurant near the intersection of 17th and P Streets NW. And while Hanley can't remember that Friday night, McEnerney does.
"It wasn't until the attack was well underway that I caught it out of the corner of my eye," says McEnerney, noting how busy that intersection was at dusk that warm Friday evening, sometime between 8 and 9 p.m. "It kind of just looked like three people messing around, jostling on the street. Then I heard something that actually made me turn away from my conversation. I said to my boyfriend, 'Something just happened there.' You could see two individuals in, like, dark navy or black hoodies, hoods up, essentially just letting [Hanley] drop to the ground, then running in opposite directions."
Hanley can provide some basic details: Friday evening, he left his home in Shaw to walk to a party a very short distance from the spot where he was attacked, on 17th Street at the entrance to Stead Park. He was carrying a bottle of champagne. He had just texted his boyfriend, Caeb Colravy, who was waiting for him at the party.
Using McEnerney's recollection to fill in the blanks, it seems the two assailants attacked Hanley quickly, stealing just his iPhone, which may have still been in his hand. They did not take the iPod in his pocket, or his wallet containing cash. McEnerney, 45, a nurse, acted reflexively, bolting from his table to attend the young man he did not know. He says Hanley was dazed, in shock, bleeding from his forehead and suffering a cut on his thumb deep enough to expose bone, likely caused by the shattered glass of the champagne bottle. With the help of his boyfriend and a Skewers manager, McEnerney was able to apply ice, iodine and bandages, as well as check Hanley's mental responses as they waited for the ambulance.
As luck would have it, Hanley's friend jb beeson was also at Skewers that night, though she was inside the restaurant with no view of what happened. When she exited, however, Hanley was still on the sidewalk with McEnerney.
"I happened to look and it was Tyrone," says beeson. "It was crazy that I walked by because I was the only person who had telephone numbers to call his friends. He couldn't remember anything. He kept asking if he was bleeding. He kept asking for someone to call Caeb."
beeson attempted through their network of common friends to contact Colravy, eventually getting as far as his voicemail. Colravy got that message as beeson prepared to accompany Hanley to the hospital.
"Just as I was sitting down (in the ambulance)," she says, "Caeb came running from 17th Street."
With the stitches removed, Hanley's physical healing is nearly complete. His memory is still a blur. Without the details, he says it's hard to tell if there was any homophobia at play. McEnerney says he's fairly certain the robbery must have been premeditated and targeted, as it happened so quickly and the assailants fled in opposite directions as if they'd planned their escape. beeson points out that because Hanley may be perceived as gay, hate could have played a role, saying, "Just because you don't yell homophobic slurs doesn't mean it's not a hate crime."
Hanley himself points out that he's been robbed two times prior, and that he's never resisted. He says he would not have in this instance, either, making the violence — knocking his head into the pavement, he believes — seem absolutely unwarranted.
Still, as he prepares to start law school to eventually work on social-justice issues, Hanley harbors no animosity.
"While they made the decision to hurt me — and I hope they get arrested — a part of me wonders what was going on with them that felt it necessary to attack me. It happened. It sucks. But good things can come out of it. It's reaffirmed my belief in social justice."