This year's DC Black Pride events strive to be the largest yet — though few would argue that there's one significant element missing: Charlotte Smallwood.
"I will miss that she will not be at the door going into Black Pride, providing the benefit of her immense knowledge of the District to visitors from out of town," laments Earl Fowlkes, DC Black Pride board member.
Smallwood was a 73-year-old lesbian activist living in Washington. She died of brain cancer on April 12.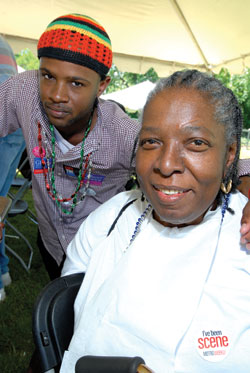 Charlotte Smallwood
"Charlotte knew where everything was," says Fowlkes. "She knew how to get there and it was always comforting to see her. I knew everything was fine in the hospitality suite if Charlotte was there, because she could take care of any problem."
Washingtonians are familiar with Smallwood as one of the founding members of Transgender Health Empowerment (THE). Smallwood was also co-editor of Community Life, a monthly newsletter she started five years ago with Courtney Williams. The publication provides information to D.C.'s African-American LGBT community.
In addition to those laudable efforts, Smallwood was involved with the DC Coalition and with Faith Temple, an LGBT-affirming, African-American Pentecostal congregation meeting at the New York Avenue Presbyterian Church. Beyond D.C.'s LGBT community, Smallwood focused on advocating for the advancement of the disabled, the elderly, youth and D.C.'s public school system.
"She was always there," Fowlkes says. "She always found time and she made community work a priority. Everyone is very busy, and there are many things we can do, but not all of us are willing to always be supportive without question. She may not have agreed with some of the things that were going on, but she always came out to support us. She was very passionate."
A few days after Smallwood died, hundreds gathered at D.C.'s Mount Pleasant Baptist Church, on April 19, to say goodbye at her funeral.
Earline Budd, treatment and healing specialist at THE, said, "the community has lost an icon. She was phenomenal."
Brian Watson, director of programs at THE, described Smallwood as one of the "gatekeepers" of D.C.'s black LGBT community.
And Courtney Williams shared his sentiments on Rainbow History Project's tribute page to Smallwood, calling her a "community activist, mother, [and] grandmother," adding, "she will be missed by her family and community. She is a special part of the D.C. community and my life for many years."
DC Black Pride will pause to remember and honor Smallwood with this year's Welmore Cooke Award during the opening reception on Friday, May 28, from 7 to 10 p.m., in the Hamilton Ballroom of the Hamilton Crowne Plaza Hotel.
Welmore Cook was one of the co-founders of DC Black Pride and the award in his name is given annually to two people who have demonstrated outstanding leadership within the community.
This year the honor also goes to Jeffrey Richardson, president of the Gertrude Stein Democratic Club.
At the opening reception, DC Black Pride is also honoring the D.C. City Council with the Congresswoman Eleanor Holmes Norton Award. That award is given to "members of the political community who have championed the rights and dignity of the Black LGBT community." The D.C. City Council is being honored for work on marriage legislation this year, leading to marriage equality becoming a reality in the District on March 3.
Smallwood's sister, Iris Johnson, is expected to accept Smallwood's award on her sister's behalf.
"In our community, unfortunately, often times we don't appreciate people while they're here and we sometimes take them for granted," Fowlkes says, remembering Smallwood. "When people are always there, we take them for granted.
"It's sad, but this our thank-you to Charlotte for supporting all of our leaders, no matter who was the president of Black Pride or who was on the board, she showed up, she came out and was there. She was not a young woman, and she was not always in the best health, but she gave more time than a lot of people who had time gave.
"At least by giving her this award, she will always be remembered. I think that's her legacy: Her example of hard work, steadfastness, will always be remembered."