Though no one could imagine in 1991 what would grow from an effort to meet the basic needs of people living with HIV/AIDS in D.C.'s black gay community, it would be a mistake to say that DC Black Pride started small. It brought together resources and potential that already existed, ultimately showing the community how big it actually was and how much it could do.
But it grew out of crisis. In the early 1990s, the HIV/AIDS epidemic was devastating the city's black gay community. And the start of the decade was the end of a celebration, when after 15 years the famed Children's Hour Memorial Day Weekend party ended with the closure of the Club House. Over the course of its own history, the local event had grown through word of mouth, drawing people from all over the country.
According to Earl Fowlkes, a past president and current board member of DC Black Pride, the Club House closed because of the impact of the HIV/AIDS epidemic on their staff. It could have been the end of not only a local tradition, but an event that brought together black gays, lesbians and transgenders from communities all over the country.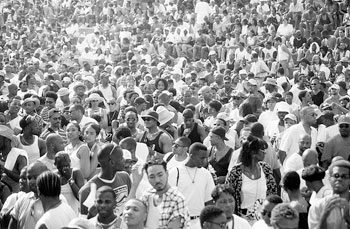 Black Pride at Howard U's Banneker Field (1999)
Three men — Welmore Cook, Theodore Kirkland and Ernest Hopkins — came together to meet what they saw as two needs: the loss of a community gathering place, and lack of resources for people living with HIV/AIDS.
"This was in 1991," says surviving founder Hopkins. "There were no real resources to meet the basic life-needs of people living with HIV — needs that went beyond treatment, like paying rent to keep someone in an apartment, to getting utilities paid, and meals delivered. Things that family would normally do, but these were often people who'd been disowned by their families."
The three men had been part of Best Friends of D.C., an organization that provided emergency assistance to people living with HIV/AIDS. They saw that the need for such services was growing faster than the resources to supply them.
"We acknowledged," says Hopkins, "that we needed a different kind of fundraising providing resources the community needed."
D.C.'s black gay community had already demonstrated its willingness to give to help others in need. As the HIV/AIDS epidemic continued to grow in the city, it was a common occurrence to "pass the hat," as Fowlkes puts it, to help those in need.
"It was normal to be in club and hear an announcement that someone was ill or in the hospital," says Hopkins. "Suddenly, checkbooks would come out or that evening's performance would become a fundraiser for someone. And people were willing to give.
"But," Hopkins adds, "we needed a bigger hat."
Cook, a military retiree, came up with the idea to create a festival for the black gay and lesbian community that would, Hopkins explains, "straddle the social and political community" that operated separately from each other then. Hopkins brought to the table an ability to bridge the two communities. And Kirkland — a retired military nurse — provided the organizing skills to start pushing the idea closer to reality.
The group's efforts, however, were met with some not-too-surprising resistance. The black gay social organizations and networks were mostly "underground" in the late 1980s and early 1990s, and many people were more comfortable keeping it that way.
"People were very comfortable in the networks of the clubs," says Hopkins. "They were people who well well-educated and well-employed, and they weren't comfortable risking their hard-won security.
"I don't judge them, though," he adds. "Their social capital was very important to them, and for some it meant the difference between a comfortable middle-class life and poverty."
The three men forged ahead with their organizing and grassroots fundraising, and — with strong support from the D.C. government — the first Black Gay & Lesbian Pride was held on May 25, 1991, on the grounds of Banneker Field.
"We didn't even know for sure that people would show up," Hopkins says. "We were told that it would not be possible for us to get black gay people to show up on a Sunday, for an outdoor event, across from Howard University."
But some 800 people showed up that day, and saw — some perhaps for the first time — a glimpse of the size and strength of their community.
Today, DC Black Pride is what Fowlkes — who also serves as president of the International Federation of Black Pride — calls "the apple tree" from which the Black Pride Movement has grown. The model of bridging social networking with philanthropy has catalyzed a worldwide movement.
With that growth, DC Black Pride's mission has expanded from HIV/AIDS philanthropy to increasing "awareness of and pride in the diversity of lesbian, gay, bisexual and transgender people in the African-American community as well as support organizations that focus on health disparities, education, youth and families."
But for past and present leaders, the impact of their work registers on a more personal level.
"I'm humbled by the fact that people have had so many positive experiences," says Hopkins, noting that many have found a path to economic empowerment through the skills learned and connections made through their involvement with Black Gay Pride.
Hopkins is not the only founder to see what grew from their vision. Cook lived to see the first DC Black Pride before he died due to HIV/AIDS-related illness less than a year later. Theodore Kirkland, who died in 2009, saw the vision he shared with Cook and Hopkins grow to full-size — coalescing the resources, strength and potential that had always existed in a community that was never as small as perhaps it had learned to see itself. It only took coming together, out in the sunlight, to see its true size and strength.
In many ways, the power of that vision still resonates most deeply and powerfully on a personal level.
"I have been fortunate enough [that] my involvement has made a difference," Fowlkes says. "People have gotten involved and their lives have changed for the better."
Says Hopkins: "People who came to Banneker Field that day, or who came to their first Black Pride in the past 20 years, saw the size and diversity and energy of that crowd, and had their lives changed, because they discovered in a real way that they weren't alone."
And therein lies the beginning of — and the strength of – a community.