"You wanted a hit, but maybe we don't do hits. I try and try, it ends up feeling kind of wrong," James Murphy sings matter-of-factly on "You Wanted A Hit," from LCD Soundsystem's dazzling new album This Is Happening. Murphy distorts his voice as he says the word "hit" the first time around. He could be talking about smoking a joint as readily as charting big on the pop chart. Either way for the listener, feeling wrong never sounded so right. Don't stop, Murphy.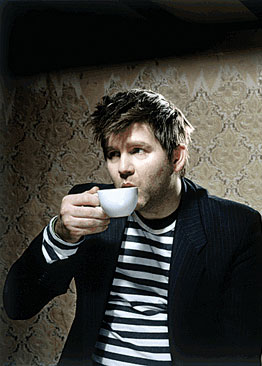 Let's Dance: Murphy
But stop he might. Murphy's threatening to call it quits on the band he created after this, the third album in some five years, with no mainstream hits to speak of. But mainstream hits are overrated, of course, especially when you've built as big a following as Murphy has. LCD was given the penultimate slot at this year's Coachella Festival, and its releases and concerts meet with almost near-unanimous critical praise, from Time to Pitchfork to most recently The New Yorker. The seven-piece New York band has also racked up three Grammy nominations.
Even if it's managed to groove under the radar, LCD has nonetheless played a key part in the past decade's reunited merger of rock and dance music. The music is rooted in disco and distortion a la David Bowie and David Byrne. (Murphy's voice sounds a lot like Byrne's, in fact.) And with bubbling-under hits like "Daft Punk Is Playing At My House," "Losing My Edge" and the new "Drunk Girls," LCD has helped make it cool again for indie-rockers to like dance music, as well as given clubbers some overdue respect among rockers — not to mention helping them better appreciate live instrumentation, especially live guitars and bass.
Murphy, 40, got his start as a drummer and sound engineer, and you can hear those influences in every song. Each song has layers of subtle sonic twists and turns, but the beats, the bass, the rhythms are almost always in the foreground. The effect is to once again split the difference, pleasing both the rockers appreciating the fine details and the clubbers appreciating loyalty to the groove. And who doesn't love a good cowbell and woodblock?
This Is Happening opens with a pitter-patter rhythm — including cowbell — with what sounds like a Pan flute and with Murphy singing sweetly. Then the song "Dance Yrself Clean" becomes the driving, intense dance number you'd expect — save for a later reprise of the pitter-patter pleasantry. And Murphy resorts to a pleading growl. The song, about life's little struggles and escapes, starts off with Murphy complaining about people "walking up to me expecting words, it happens all the time."
Actually, Murphy's lyrical words may just be LCD's strongest attribute. An NYU English grad, Murphy sure knows his way around a lyric, providing hours of entertainment at his witty wordplay, from free associations to random phrases to small glimmers of profundity. And all often delivered in his dead-pan, sing-song style. That is, except when he's provoked. On "Dance Yrself Clean," after initially carping about people bothering him, Murphy snaps: "Don't you want me to wake up? Then give me just a bit of your time."
The first round of the chorus to the synth ballad "I Can Change" is a lament begging a lover to "never change…this is why I fell in love." But after a second verse in which love gets compared to a murderer, "a curse shoved in a hearse" and "an open book to a verse of your bad poetry," we get a different message. "I can change…if it helps you fall in love," Murphy sings — and he really does truly sing most of the lyrics in this pleading song. That's how powerful a force love is — even Murphy, who knows better, can't resist.
LCD Soundsystem




and a half
This Is Happening
DFA/Virgin
$13.98
"From this position" is the jumping-off phrase to the masterful "Pow Pow," with its hard-hitting onomatopoeic title. Murphy narrates a hilarious, small-bore story essentially about constantly second-guessing himself. "I'm coming back until there's nothing left in the well. Is that what they call it, the well?" he says at one point. At another, he takes a swipe at a certain gay New York gossip columnist: "Oh, eat it, Michael Musto. You're no Bruce Vilanch." Touche!
Early on in the song — before the twice-shouted puzzling group refrain, "The return of the police!" — Murphy compares his rampant self-criticism to "eating myself to death." That doesn't sound good, but it's certainly amusing to a listener. On "We Wanted A Hit," he falters, and yet still pulls the lyrics off in gloriously wry fashion. "You wanted the time, but maybe I can't do time. Oh, we both know that's an awful line — but it doesn't make it wrong."
Nope, it doesn't. In fact, there's nothing really wrong with This Is Happening. Let's hope Murphy keeps it happening for a long time to come.