At 8:30 p.m. Thursday, May 27, Rep. Patrick Murphy (D-Pa.) was recognized to introduce Amendment No. 79 – compromise legislation to end the "Don't Ask, Don't Tell" policy – to the National Defense Authorization Act. By a little past 10 p.m., the House accepted his amendment on a 234-194 vote, following the Senate Armed Services Committee by a few hours in approving legislation aimed to end what Rep. John Lewis (D-Ga.) called "an affront to human dignity."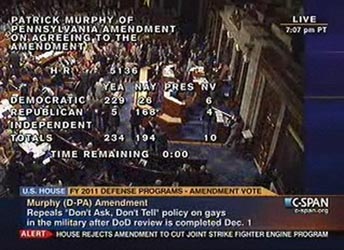 In the end, 26 Democrats opposed the amendment and five Republicans supported the amendment. Although a full vote count was not immediately available, Reps. Joseph Cao (R-La.) and Ileana Ros-Lehtinen (R-Fla.) were co-sponsors of Murphy's bill that preceded the compromise language and newly elected Rep. Charles Djou (R-Hawaii) had said in the past day that he would support the Murphy amendment.
In introducing the amendment, which has not been met with excitement by all of those who want to see openly gay service, Murphy opened the debate saying, "When I served in Baghdad, my team did not care whether a fellow soldier was straight or gay. We cared if they could fire their M-4 assault rifle. . . . Could they do their job so that everyone in our unit could come home safely?
"With our military serving two wars," Murphy asked the chamber, "why on Earth would we tell over 13,500 able-bodied Americans their services are not needed?"
Murphy had strong opposition, with both House Armed Services Committee Chairman Ike Skelton (D-Mo.) and Ranking Member Rep. Buck McKeon (R-Calif.) opposing – and speaking against – the amendment.
Saying that the vote tonight was "disrupting the process" put in place by the Pentagon, McKeon said that a vote now is telling servicemembers and their families, "Your opinions don't count." He, as with Sen. Jim Webb (D-Va.), also turned to the opinion of Defense Secretary Gates, as expressed in a letter sent to Skelton on March 30 opposing legislative action before the completion of the Pentagon review.
"You all know – you have to know," he said of soldiers currently serving, "they're already going to have heard . . . on Fox News, it said, 'The Senate has repealed Don't Ask, Don't Tell."'
Of Skelton's position, McKeon added, "He stands up to say no on this amendment; I join him."
Murphy, first elected to the House in 2006, also had strong support on his side, however, with Speaker Nancy Pelosi (D-Calif.) speaking from the floor in support, along with Rep. John Lewis (D-Ga.) and several lawmakers who, like Murphy, are veterans.
Pelosi said, "We honor the values of our nation" by repealing DADT, noting that, "Nearly 8 out of 10 Americans want to end this era of discrimination."
Noting a main point of opposition from the opponents of the amendment, Pelosi noted, "Passing this amendment today respects the timeline [because] repeal would only take place after" the Pentagon working group is done with its work and the President, Defense Secretary and Chairman of the Joint Chiefs of Staff make the required certifications about the repeal.
Pelosi concluded, "Let us honor their service by committing to the values they fight for on the battlefield."
Lewis, a civil-rights hero to many, spoke forcefully about the moral case for repeal, telling the chamber, "'Don't Ask, Don't Tell,' what does it mean? It didn't make sense then, and it doesn't make sense now."
Calling the military's current policy "an affront to human dignity," he said, "We cannot wait, we cannot be patient. . . . Discrimination is wrong, and we must end it."
The chairwoman of the Military Personnel Subcommittee of the Armed Services Committee, Rep. Susan Davis (D-Calif.), unlike the committee chairman and ranking member, is supportive of DADT repeal, and spoke in support of Murphy's amendment, saying, "'Don't Ask, Don't Tell' weakens our national security. . . . America can do better. Vote yes."
Rep. Tim Walz (DFL-Minn.) and Rep. Gary Peters (D-Mich.), both veterans, also spoke in favor of the amendment. Walz, according to Murphy's introduction of him on the floor, is the highest-ranking veteran serving in Congress.
The Human Rights Campaign's Joe Solmonese said in a statement, "Lawmakers today stood on the right side of history. This is a historic step to strengthen our armed forces and to restore honor and integrity to those who serve our country so selflessly."
Alex Nicholson, the executive director of Servicemembers United, said in a statement that referenced the earlier Senate committee vote, "This second victory for repeal advocates today in the House of Representatives demonstrates real momentum in the battle to finally rid the United States Code of the outdated 'Don't Ask, Don't Tell' law."
Echoing and expanding on his earlier statement, Servicemembers Legal Defense Network's Aubrey Sarvis said, "The U.S. House and Representatives and the Senate Armed Services Committee both passed a historic roadmap to allowing open military service, but it doesn't end the discharges. It is important for all gay and lesbian, active-duty service members, including the reserves and the national guard, to know they're at risk."