Lately, I've been eyeing a juggernaut of righteous indignation barreling through our community. So, hooray for that. It was righteous indignation that got the kids, the queens and hustlers to fight back at Stonewall.
And it's righteous indignation that sparked the nearly spontaneous rallies across the country after Californians approved their shameful Proposition 8. It's the reason honorable servicemembers and civilians are getting themselves arrested at the White House as they protest the similarly shameful "Don't Ask, Don't Tell." And righteous indignation is clogging Speaker Nancy Pelosi's (D-Calif.) schedule. Good things all.
Troubling, however – though certainly not to the point of righteous indignation – is the defensive flipside. Corners of our community seem to be taking offense awfully quickly these days.
First I read assorted online posts about transphobia on a recent episode of Family Guy. Some are righteously indignant about how the show handled one character's father transitioning to womanhood. I didn't see the episode when it originally aired, but I had recorded it. Prior to viewing, the descriptions of the trespasses had me worried. I could understand the uninitiated being easily offended by anything on Family Guy, but even fans seems troubled. The show has prompted boycotts before – from the right. After all, an example of the show's humor is the baby's cereal receiving an accidental dousing of horse semen rather than milk. And guess what? He likes it. Hilarious, really.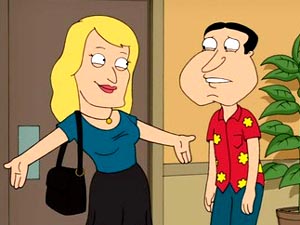 Family Guy
Then I saw the episode in question. And what was offensive? Lines like this, for one: "What are you gonna name it? Your he-she father-mother?"
But there was also some trans-aware sentiment you won't be seeing on any other half hour comedies with great ratings, such as poignant dialogue between father and son, after the former has transitioned and now goes by the name Ida:
"All I've talked about for years with these people is what a war hero you were!"
"And I was. I'm changing my future, not my past."
"What about my future, huh? I don't even know what to call you! My dad? My other mother? My friend who pees sitting down, but can also palm a basketball?"
"What about Ida?"
"Oh, man, this is too hard. You know, you're asking me to accept an awful lot. I don't know if I can do this."
"I understand. I had the advantage of thinking about this for years. For me it was easy: Do I want to be happy for the rest of my life, or miserable?"
"So now you're happy and I'm miserable."
"I see. I'm sorry you feel that way." Exit Ida.
And there's also about two minutes worth of vomiting. All in all, I thought it was a subversive way to grab the attention of an untold number of surly adolescents and make them ponder gender identity in ways they'd not considered. Color me not offended, but impressed.
The night before, the beloved Betty White hosted Saturday Night Live following a populist campaign drafting her for the show. In a returning sketch that parodies Scared Straight!, White played a prisoner warning three teens about prison. In a Wizard of Oz allegory, she warned that in prison these boys might pull back a shower curtain to reveal the "Wizard of Ass!" It sort of became her catchphrase. Of course, it was very insensitive to the issue of prison rape, as some seriously noted. I laughed out loud, but that does not mean I condone prison rape — or rape of any sort, for that matter.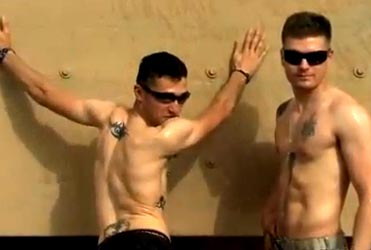 Ke$ha Parody
I can't forget the Ke$ha parody out of Iraq. Surely you've seen this viral vid with its exaggerated imagining of gays in the military, featuring actual soldiers dancing around with glow-sticks and pretending to spy on one another in the showers. There was some righteous indignation that this was horribly homophobic. By this point of R.I. (righteous indignation), I thought I was going batty. Was I missing something?
I asked my partner's cousin, Marco Antonio, a young, gay, combat vet who served in Iraq. His reaction? "Those who have been offended need to get thei r panties out of a knot and enjoy the comedy." He, instead, is offended by fellow servicemembers wearing their uniforms when they protest DADT: "Real Soldiers don't attend political events in a professional capacity, regardless if their cause is for human rights, political party, or for government reform."
So one person's offense is another's R.I., and vice versa. That's what I would like people to keep in mind. When there is so much hard work to be done in D.C. and across the country, when our peers in other countries are being locked up, beaten, executed – you name it – these debatable offenses become a distraction. Fix the big offenses, and the little ones will take care of themselves.