Ever hear of ninja house?
"I don't know how to put it into words," says Cobalt's Sean Morris. "It sounds very different."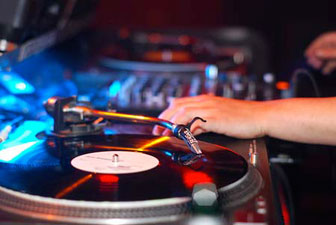 (Photo by Boris van Hoytema)
The stealthy music style is one of the surprises to factor into Cobalt's debut Amateur DJ Contest, which started last Saturday and runs every Saturday this month during happy hour. The focus is on DJs relatively unknown in D.C. nightlife, says Morris, who's in charge of the contest.
"When we said amateur, we were really trying to go for those who didn't have regular gigs in D.C. that they were getting paid for," he says. "Most of these DJs have only played at a friend's party or things like that."
According to Morris, a total of 14 DJs will spin "whatever genre they like" for two hours each in Cobalt's 30 Degrees lounge. Only those patrons in attendance get a ballot, allowing them to vote for one DJ each round — and it's up to each DJ to draw a crowd of supporters. The winner, based on popular vote, will be announced after the final round Saturday night, May 29. The grand prize is a paid gig as the opening DJ at Cobalt the very next night, for Morris's monthly dance party X. The winner will also serve as the opening DJ for the opening event at Cherry next year.
Morris, 32, first got started with club promotions a couple years ago at a straight mega-club in New York. He's currently developing other promotions for Cobalt, where he serves as the weekend lighting technician.
Morris was inspired to start the DJ contest after the success of similar amateur bar competitions for drag queens and singers.
"I think a lot of the [competition's] DJs will end up getting booked at venues around town even if they don't win," says Morris. In fact, Morris himself will be scouting among the contestants for future parties.
So even if ninja house DJ Li Zhang, who spun last Saturday, doesn't win Cobalt's popular vote — well, at least historically ninjas are notorious for conquering anyway.
The Amateur DJ Contest takes place every Saturday from 4 to 10 p.m. through May 29, when the winner will be announced.
Cobalt, 1639 R St. NW. Free. Visit the contest's Facebook page for details, including the full DJ lineup.