Dear Sex and the City fans: Cheers! Everything you could have possibly wanted in a sequel to the first film, as a continuation of the television series, has arrived. So slip on your strappy sandals, pour a cosmo (or two), change your outfit six times, and be prepared to have your every fashion craving satisfied.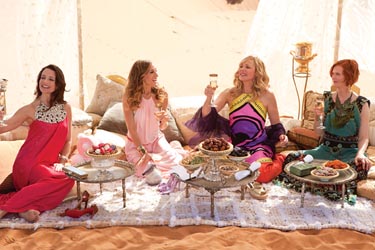 Sex and the City 2
(Photo by Craig Blankenhorn)
Writer and director Michael Patrick King knows what his audiences want from Carrie (Sarah Jessica Parker) and her soul-mate girlfriends. Fun banter, over-the-top clothes, consequence-free dalliances, and some witty one-liners that you can post as your Facebook status. And he delivers.
The first part of the film – might as well call it an episode because it's fairly standalone – involves the wedding of Stanford (Willie Garson) and Anthony (Mario Cantone). Because as Carrie says, just when you think you're old enough that everyone you know is married, along come the gays. And there has never been a more gay-themed start to a film anywhere, anytime, in any gay film festival. Seriously. What could be gayer than Liza Minnelli singing Beyoncé at a wedding with swans? Like the answers to Lost, it just doesn't exist.
And it's after this fairytale wedding that the real fairy tale starts for the ladies. Samantha (Kim Cattrall) gets invited to the "new Middle East," Abu Dhabi (though filmed in Morocco, as authorities in the United Arab Emirates refused to permit filming in the conservative country), and manages to get her friends included on the magical ride to a foreign land. Miraculously, jobs, kids and responsibilities all align to allow the gals to hit the desert like four mirages of American couture.
True to their characters' well-defined roles, Miranda (Cynthia Nixon) reads guidebooks and practices her Arabic, while Charlotte (Kristin Davis) worries about leaving her husband at home with the braless wonder of a nanny. And Samantha, that wild card, struggles with the conservative treatment of women in the Middle East. Through it all, Carrie frets that the "sparkle" has gone out of her relationship with Big.
But none of it really matters, because they're in a $22,000 per night room at a beautiful resort that seems like heaven; they each have a personal butler, and a car, and fabulous clothes, and get to ride camels. It's lighthearted and it's a great escape. One scene in particular is destined to inspire some late-night karaoke performances, and maybe even a drag number or two.
Need I mention that a certain hot, hunky past love of Carrie's returns? While there might be some sparkle lacking at home, there are still some sparks between these two. And there's an Australian rugby team in Speedos and a couple hot men that bare it all for Samantha to keep your interest up. No matter what they're doing, the four women look amazing in their stylings. The one omission for you die-hards may be that there's not a single fashion montage in the entire film, but hopefully a flashback to the '80s makes up for it.
Sex and the City 2 is like a Magnolia Bakery cupcake – you know exactly what you're going to get, and it's a guilty pleasure.
SEX AND THE CITY 2


Starring
Sarah Jessica Parker,
Kim Cattrall,
Cynthia Nixon
Rated R
146 Minutes
Area Theaters
Dear non-Sex and the City fans: There is nothing here that's going to convert you. If you didn't like the show or the first movie, giving these girls another chance is not going to result in any satisfaction. King's pandering to his legions of followers is pretty blatant and borderline demeaning. It's like he knows he doesn't have to stretch beyond the basics to make his core audiences happy, so why try. The pained back and forth between Carrie and Big about not calling it a "gay wedding" is like a bad after-school special or recent episode of Glee. And most of the dialogue feels like a set-up for the one zinger in each scene, usually sexual and usually delivered by Samantha.
Half of the film is filled with a world more fantastical than a Harry Potter book; the other half is bogged down with dull relationship woes that are clichéd and draining. The characters have grown up, and so must the show. But grown-up is not fun and King's script doesn't allow the ladies to explore anything with even a modicum of depth or originality. Parker moves fairly effortlessly through the film, working the fashion more than the dialogue, but it's only Davis as the frustrated Charlotte who even scratches the surface of a moving performance.
For the non-fan, Sex and the City 2 is also like a Magnolia cupcake – pretty much empty calories and not worth the wait.