A leader of the National Association of Evangelicals (NAE) has told Religion Dispatches that Sen. Chuck Schumer (D-N.Y.) reports that comprehensive immigration reform would not include language allowing U.S. citizens in same-sex relationships to sponsor their non-citizen partners for immigration purposes.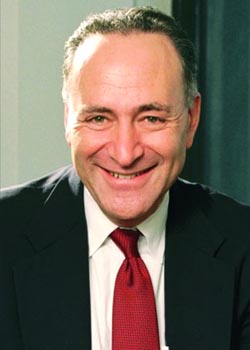 Sen. Chuck Schumer
Galen Carey, the NAE's director of government affairs, was quoted on Wednesday, May 12, as saying, "I am quite sure that won't be in the final legislation," adding, "we've talked with Senator Schumer and he said that he would bring it up at a separate time."
Steve Ralls, spokesperson for Immigration Equality, an organization whose mission includes promoting LGBT-inclusive immigration reform, questioned Carey's claim.
"If the evangelicals are asserting that Sen. Schumer has agreed to not including gay and lesbian families in immigration reform, I think that is false," Ralls said Wednesday.
The language relating to same-sex couples, which has been introduced separately in Congress as the Uniting American Families Act (UAFA), was included in a 26-page framework for immigration reform introduced by Sen. Harry Reid (D-Nev.), Sen. Robert Menendez (D-N.J.) and Schumer on April 30.
Ralls noted that Schumer expressed support for immigration reform that includes UAFA at a Judiciary Committee hearing in 2009, that he tells his constituents that he supports such inclusion and that he included it in the framework that the Democratic leadership introduced in April.
"To the best of my knowledge, Sen. Schumer has not changed his position on including gay and lesbian couples in immigration reform," Ralls said. "Sen. Schumer has been very clear all along that he supports including gay and lesbian families in the legislation."
The framework unveiled on April 30 stated that reform legislation "will eliminate discrimination in the immigration laws by permitting permanent partners of United States citizens and lawful permanent residents to obtain lawful permanent resident status."
Carey, whose group is running a full-page ad in Roll Call on Thursday, May 13, supporting comprehensive immigration reform, said that his group would not support legislation that included the UAFA provision.
"We also would oppose that and I am quite sure that won't be in the final legislation," Carey told Religion Dispatches. "Immigration is hard enough on its own that we don't need to bring in an issue like that."
The question about Schumer's statement comes as another strong proponent of immigration reform, Sen. Dick Durbin (D-Ill.), told the Bill Press radio show of immigration reform in general, "It's unlikely we'll get to it this year," according to a report at The Hill's Blog Briefing Room.
Messages left with the offices of Menendez, Reid and Schumer seeking comment were not immediately returned. The NAE's Carey did respond to a request for clarification.
UPDATE: Immigration Equality's Ralls, early Wednesday evening, said, "Immigration Equality was assured by Senator Schumer's office that his position is unchanged, and that the framework continues to reflect his position that UAFA should be part of comprehensive reform."
Schumer's office, however, has not responded to requests from Metro Weeky for comment on this story.