Solicitor General Elena Kagan is nominated for the Supreme Court and LGBT issues have been front and center since the May 10 announcement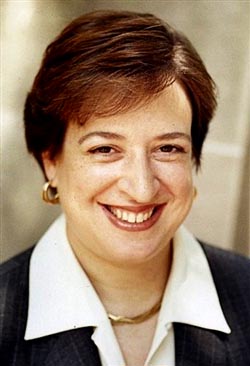 Elena Kagan
President Barack Obama called retiring Justice John Paul Stevens "an impartial guardian of the law" that day as Kagan, his solicitor general, stood to his left.
Then, with Vice President Joe Biden to his right, Obama announced what had been first reported on the night of May 9: that Kagan was his choice to replace Stevens on the U.S. Supreme Court.
"Elena is respected and admired not just for her intellect and record of achievement, but also for her temperament – her openness to a broad array of viewpoints," Obama said, also noting, "her habit, to borrow a phrase from Justice Stevens, 'of understanding before disagreeing.'"
A former clerk for Justice Thurgood Marshall, Kagan is the fifth woman nominated to the high court and would be the fourth to serve on it if confirmed by the Senate. It also would be the first time the court has had three women serving at the same time on the court of nine justices.
When it comes to LGBT issues, Kagan dove into one, has sidestepped another, and is at the center of a third that she doubtless would have preferred to avoid entirely.
While at Harvard, Kagan signed her name to a brief in the Supreme Court supporting an eventually unsuccessful challenge to the Solomon Amendment, the congressional law that denied certain funding to universities that did not provide military recruiters equal access to recruitment services. Many law schools opposed the law because the military's "Don't Ask, Don't Tell" policy conflicts with their own nondiscrimination policies.
She also sent an e-mail to students and faculty of Harvard Law School about her views, telling them, "I abhor the military's discriminatory recruitment policy."
Kagan, however, has not spoken so publicly about marriage equality.
When considering Kagan for her nomination as solicitor general, Sen. John Cornyn (R-Texas) asked Kagan in a follow-up question after her confirmation hearing, "Do you believe that there is a federal constitutional right to same-sex marriage?" She responded, "There is no federal constitutional right to same-sex marriage."
Although some people supportive of marriage equality have raised concerns on this front, conservative Ed Whelan was skeptical, noting at National Review Online's The Corner, "Perhaps Kagan means merely, 'The Supreme Court, as of the time I'm writing this response, has not recognized a federal constitutional right to same-sex marriage. Therefore, there is no such right as of now.'"
Finally, some, including Andrew Sullivan and Michelangelo Signorile (as well as some social conservatives), have asked why rumors about Kagan's sexual orientation have been treated differently by the White House and the media than other parts of Kagan's life that have been displayed readily in the media before and since her nomination. The White House has, in the past, told reporters that Kagan is not a lesbian, but, for some, that is not enough.
On Tuesday night, May 11, however, Ben Smith at Politico reported that "one of [Kagan's] best friends" told Politico, "I've known her for most of her adult life and I know she's straight," thus – likely – ending 48 hours of intense speculation about the nominee's sexual orientation.
When the Senate voted on her nomination as solicitor general, it was approved 61-31 with the support of seven Republicans. Sen. Arlen Specter (D-Pa.), who was a Republican at the time of the earlier vote, voted against her confirmation then.