Calling it a "natural progression," Nathaniel Frank will be leaving the Palm Center — his academic home of the past decade where he gained national notoriety for his research on the "Don't Ask, Don't Tell" policy — to join the Movement Advancement Project (MAP), an LGBT think tank, on June 1.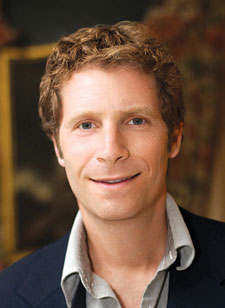 Dr. Nathaniel Frank
(Photo by Matthew Brown)
Frank, who is gay, wrote one the most extensive books detailing the failure of the DADT policy and has been the very public face of the Palm Center's work to end the policy.
Calling his time there "a scholar's dream," Frank spoke to Metro Weekly today, May 7, about his plans, saying, "I feel so lucky to have been able to get my Ph.D. and … make a life with the help of the Palm Center and my colleagues, where I could do scholarship that mattered."
And now, as the future of the policy is uncertain and repeal advocates – including the Palm Center – are in disagreement about how to proceed, Frank's departure could cause anxiety for some fighting to end DADT. Currently the senior research fellow at the Palm Center, Frank will join MAP next month as the group's senior strategist.
"For the last 10 years, I've been very fortunate to work on an issue that I care about," Frank said. "I am an academic and I am a writer, and I enjoy talking about the material and the information. But there are many places where that research is useful and it is needed."
Aaron Belkin, the director of the Palm Center and Frank's longtime colleague, told Metro Weekly on Friday, "I think he's done about as much to advance the movement as anyone I can think of."
Saying, "It's really not possible to replace someone like Nathaniel," Belkin added, "I think Nathaniel would say the reason Palm is important is not personality driven. It's about getting the research into the conversation."
Frank noted that he was gratified "to have seen a very important crack in Humpty Dumpty, which were the regulatory changes [announced by Defense Secretary Robert Gates in March], that I think in many ways were the beginning of the end [of DADT]."
On a less optimistic note, however, Belkin said, "I hoped [Frank] would stay till the end, but this may not actually be the worst time to go.
"My analysis is, sadly, that the legislative agenda is quite stalled … and the next window for legislative repeal will be 2013."
The DADT-repeal advocates and the greater LGBT community should "remember that the best way to move forward is an incremental approach," he said, noting the importance of "half-steps" in getting rid of the policy.
Frank echoed that sentiment, saying, "Obviously, I've been frustrated to see a certain amount of progress countered by a certain amount of backlash. But the Palm Center has long expressed concern about the prospects for full repeal this year."
Belkin noted the activist mood of the moment, saying, "I think the community might be in a bit of a different place than Palm is right now. I think it's very powerful when people engage in direct action — I just don't think this is the endgame."
Citing Frank's "tremendous accomplishments" at the Palm Center, MAP's executive director, Ineke Mushovic, spoke to Metro Weekly on Friday about Frank's move, saying, "We're excited to have him as part of the strategy team."
MAP, Mushovic acknowledged, is not an organization known to many in the LGBT community. Formed four years ago, Denver-based MAP, she said, "partners with the organizations that will be doing the work in the movement, [doing] analyses and reports that help speed equality for LGBT people."
Those reports, she explained, focus on two areas: "LGBT movement capacity – Where are the organizations? How well funded are they? … What are the capacity needs for the movement? – and strategic analyses." On that strategic front, Mushovic offered the LGBT elder report, unveiled recently at the Center for American Progress in partnership with Services and Advocacy for Gay, Lesbian, Bisexual & Transgender Elders (SAGE) as an example.
MAP, Mushovic explained, "looks at current or particularly thorny issues. We take the time to analyze the issue … in a way that the organizations that are doing the work" cannot.
Of Frank's joining that work, Mushovic said, "I think we have a long way to go on many issues across the LGBT movement, so it's not only DADT that could benefit" from Frank's skills. "He was able to not only take and advocate a point of view … but also communicate the issue in a compelling way to a mainstream audience."
Frank's book, Unfriendly Fire: How the Gay Ban Undermines the Military and Weakens America, was published in March 2009 to critical acclaim. According to a review in The New York Times, "The core message of Nathaniel Frank's book about the American military's ban on being openly gay can be summed up in a single slogan: 'Don't Ask, Don't Tell Don't Work.' … So why does his book, 'Unfriendly Fire,' need nearly 300 pages of text to make the same relatively simple points? Because he makes them so discerningly, so substantively and so well."
On March 9, 2009, Frank appeared on The Daily Show to talk with Jon Stewart about Unfriendly Fire.
"I've been saying this ban is going to end in two years — every two years for the past 10 years," Frank told Stewart. "So I don't have a great track record on it, but I have a lot of optimism on it right now because the Democratic Congress, Obama – the research is really there."
On Friday, speaking by phone about his career, Frank offered a glimpse into the sense of gratification he may feel: "I'm just driving away from West Point with the mountains receding behind me. I did a book signing at West Point where cadets bravely came up to my table and thanked me for what I'm doing."
He also talked of desire to move on to other work, however, remarking that he's spent the past decade writing about "one four-page law," referring to the law behind DADT. His future at MAP, he explained, would be more varied because "MAP has a broad mandate."
"This opportunity came up when it did to try and make myself useful in a broader way."
Come June 1, that opportunity will be Frank's new reality and, he hopes, the LGBT community's enhanced asset.