The Brian Betts homicide investigation came to a head yesterday, May 3, with the arrests of four suspects: Deontra Q. Gray, 18, of the 1300 block of Southview Drive in Oxon Hill, Md.; Alante Saunders, 18, address unknown; Sharif Tau Lancaster, 18, of the 5300 block of 5th Street NW; and Lancaster's mother, Artura Otey Williams, 46, also of the 5300 block of 5th Street NW. The three male teens were all arrested at the Oxon Hill address.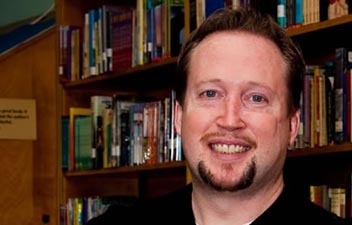 Brian Betts
Betts, 42, the very popular principal at D.C.'s Shaw Middle School at Garnet-Patterson, was found dead of a gunshot in his Silver Spring home April 15. He was remembered May 1 at a memorial service in Bethesda.
According to the Montgomery County Police Department, Saunders and Lancaster have been charged with first-degree murder, armed robbery, and the use of a handgun in a felony crime of violence. Gray has been charged with first-degree murder, one count of armed robbery, and one count of conspiracy to commit armed robbery. Williams has been charged with two counts of knowingly receiving a stolen credit card with the intent to use it, attempted theft of less than $1,000 in value, and attempted fraudulent credit card use.
Montgomery County Police Chief Thomas Manger said Monday that it appeared Betts met his assailants though a social-networking site. The Washington Examiner, quoting an unnamed police source, identified that site as "Adam4Adam." Sgt. C. Thomas Jordan, a police spokesperson, could not confirm which site Betts may have used. Adam4Adam, an entirely free social-networking site, bills itself as a tool "for gay men looking for friendship, romance, dating or a hot hookup."
Following a similar report from NBC4.com prior to Manger's confirmation of Betts's use of a social-networking site, Gays and Lesbians Opposing Violence (GLOV) issued a community advisory April 23, also citing the Dec. 27 murder of Anthony Perkins, a 29-year-old gay man. According to an investigator in that case, Perkins was lured to the 2900 block of 4th Street SE by someone he spoke with on the "DC Raven" telephone chat line. In the Perkins case, Antwan Holcomb has been charged with first-degree murder.
"GLOV urges individuals who use the [I]nternet as a place for meeting acquaintances or sexual encounters to be aware of their surroundings, talk on the phone prior to meeting in a public place, and notify friends of your whereabouts," the advisory read in part, warning of a possible trend.
In the Betts investigation, investigators found several of his credit cards were stolen from his home. Surveillance cameras captured images of Williams using one of the stolen cards, April 16, the day after Betts's body was found, at Giant Food at 1280 East West Highway in Silver Spring. During the May 3 arrests, police also found Betts's wallet at Gray's residence, along with a receipt for Nike shoes purchased on one of Betts's stolen cards after he'd been killed.
The Monday arrests were carried out by members of the Metropolitan Police Department's SWAT team, the U.S. Marshals' Fugitive Task Forces, and Montgomery County Police.