It is perhaps especially true for opera that there is a reason that some are not often staged. In the case of Ambroise Thomas's Hamlet, it is a matter of the music and of Shakespeare. Although there are moments of gratifying menace, winsome beauty, and some interesting articulations of a somber and contemplative Hamlet in this score, there is something about Thomas's style that leaves one feeling, despite the finalities, little sense of catharsis.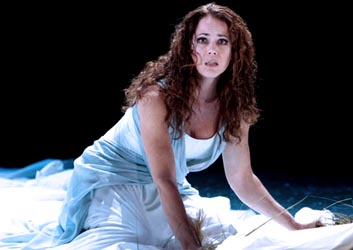 Over troubled water: Elizabeth Futral as Ophelia
(Photo by Karin Cooperfor/Washington National Opera)
Furthermore, by its very nature, this is a translation as much an interpretation since we must move from the spoken word to the sung via a libretto that cannot possibly reproduce the entire play. Does this opera capture the emotional intensities Shakespeare builds with his genius for language and the internal human map? No. As a composer, can Thomas succeed in generating an equivalent level of emotional conflict, darkness and intensity? No. So is it worth seeing? Yes, provided one takes it as a riff on the Hamlet theme – and a showcase role for the soprano singing Ophelia.
Avoiding a traditional staging of the play, which is probably a good thing, this Washington National Opera production sets the action in an anonymous vintage-era totalitarian state. The set – save for Ophelia's intriguing though incongruous riverbed – is something akin to the decrepit backside of a coliseum. Not as obtrusive as it sounds, this space is used deftly to suggest both interior and exterior scenes. It generally succeeds in conjuring the bleak emotions of the piece despite the distractingly anachronistic graffiti.
Offering an extended mad scene for Ophelia and other choice moments for a light, dexterous voice and plenty of dramatics, any review of this opera should be about the soprano. Unfortunately, on the night this Hamlet was seen, soprano Elizabeth Futral, a major draw to the production, sang only the first act before passing the reins to her understudy due to allergies. What we did see of Futral offered a promising glimpse of the control and sweetness of tone she might have brought to Ophelia's dissolution, even if her acting tends toward the overly affected. Domingo-Cafritz Young Artist Micaela Oeste served valiantly in a demanding role, which Futral will apparently resume for the remaining performances. Unfortunately, this interruption in proceedings damaged the narrative tension and subsequent scene transitions, which were longer (and louder) than usual.
Once Futral left in search of her Claritin, the evening belonged to Michael Chioldi in the title role (shared with Liam Bonner) and Elizabeth Bishop as Hamlet's mother Gertrude, newly widowed by the king's suspicious death. Chioldi, a solid baritone inflected with more wool than silk, delivered some affecting and powerful notes. His main contribution, however, was in imbuing his Hamlet with some distinct personality; he wasn't so much likeable as credibly frustrated and ineffectual. On one level this energy seemed at odds with Thomas's almost lugubrious score and yet on another it worked. As the conflicted Gertrude, Bishop sang with an expressive golden mezzo-power which was perhaps the one voice truly simpatico with Thomas's score. The scene in which Hamlet forces Gertrude to admit her role in his father's death, however, played like a pro-wrestling out-take and falls squarely in director Thaddeus Strassberger's lap.
Hamlet



and a half
To June 4
Kennedy Center
Opera House
202-295-2400
dc-opera.org
Tenor John Tessier sang his Laertes with a tautness begging for a bit more bravado while Samuel Ramey brought significant presence, if not great voice, to his role of the usurping Claudius. In the small roles of the gravediggers, tenor Jesus Daniel Hernandez and baritone Aleksey Bogdanov offered handsome voices with potential.
Although the WNO orchestra played with expressiveness under the hand of conductor Placido Domingo, there was a lack of ease and unevenness, which echoed the disruptions onstage.
And so: To see or not to see this opera? That is the question. Futral is the answer.