"As a child growing up in Missouri I would play in old, abandoned Victorian homes," says Mike Weber. "I think that's where my fascination started with former lives, [thinking about] what lived in the homes before."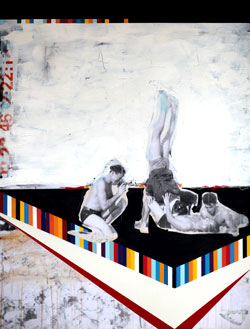 Mike Weber's "Identify"
The 35-year-old, gay, mixed-media artist continues that fascination with his first-ever solo exhibit, "Identify," now at Long View Gallery. "A lot of the pieces, the colors and palettes and textures and patterns, are inspired by those old homes," he says.
But before Weber's own digital manipulation, each of the more than 40 pieces started as an old photograph or painting the artist found through eBay or in antique shops. "Most of them came from estate sales," he says. "When someone would pass and there wasn't an heir or next of kin to take the family photos, they would either throw them away or sell them in auctions.
"I wanted to find a way to make these peoples' scattered, lost lives continue," he adds. "Identifying someone in my own way."
A graduate of the Art Institute of Dallas and a former television graphics animator in New York, Weber originally moved to D.C. a decade ago for love. He stayed for the opportunity to build the city's fledgling art scene and was an original member of the Mid City Arts collective. For the past five years, his Weber Fine Arts has been a key link between the city's ever-growing rosters of contemporary art-focused galleries and artists. "Before I knew it, it turned into a full-time career," he says.
But now, he's closing that consulting business to commit to his art full time. After five years of bottling up his creativity, he says, "I was just dying to get this out. I have so many ideas in my head."
Future exhibits will continue to explore the theme of home and history.
"I'm going to push it further," he says, "using even more unconventional materials and building more of a sense of the human spirit that remains in a home." — Doug Rule
Mike Weber's "Identify" is on exhibit through May 20. Long View Gallery, 1234 9th St. NW. Call 202-232-4788 or visit longviewgallery.com.