They didn't win first place — but they put up one hell of a fight.
Jonathan Howard, 29, and his fiancé Gregory Jones, 29, who live in D.C. and plan to wed this October at a nearby vineyard, came in second place for Crate and Barrel's "$100,000 Ultimate Wedding Contest."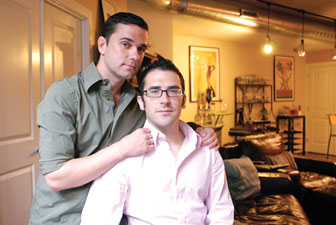 Gregory Jones & Jonathan Howard
(Photo by Todd Franson)
"We were really excited," Jones says of taking the No. 2 spot in the contest, which accepted applications from candidates between Feb. 1 and March 31 on Crate and Barrel's website.
"Over 9,000 couples entered. And with 50 top finalists, to be chosen as second was amazing," Jones says. "I think Crate and Barrel went out on a limb to choose us as a couple. It was so great that they were so inclusive."
As runners-up, Jones and Howard will soon receive a $7,500 Crate and Barrel Shop Card. They received 20,054 votes from online supporters.
Jaclyn Nolan and Tanin Blumberg from San Francisco won first place, which awards them $100,000 and a dream wedding designed by celebrity wedding planner Jo Gartin.
Even though the winning couple only had 1,383 votes, the contest rules made it clear from the beginning that Crate and Barrel would determine the winner regardless of the votes.
"We have to admit that we're a little confused," Jones says, "but voting was only 20 percent of the final score. So really it was anyone's game to win the [first] prize."
Jones and Howard garnered national attention in February after reaching the No. 1 slot and falling from it two days later. The couple who took the lead was Mary Cole and her husband, Densey Cole, a Chicago police officer who was paralyzed following a head-on collision in May 2009.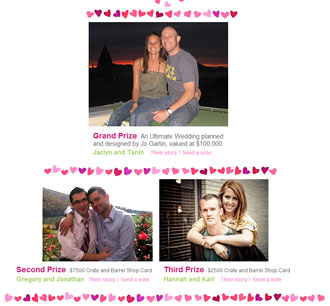 Screen shot of winners from Crate & Barrell's "Ultimate Wedding Contest"
That was around the same time that an anonymous blogger who runs a site on Google's Blogspot, which protects the identities of its bloggers, claiming to have over 5 million viewers and also claiming to be a police officer in Chicago, bashed Jones and Howard and asked his readers to vote them out of the No. 1 slot.
On Feb. 26, the same day that Howard and Jones fell to the No. 2 slot, the blog's administrator posted a message stating: "… if this GAY COUPLE WINS I WILL NEVER EVER SPEND ANOTHER DOLLAR AT CRATE AND BARREL! … Give this gay couple the second place package, a container of Astro-Glide, two gerbils and some women's panties."
The blogger revisited the contest recently on May 24, asking his readers for a boycott of Crate and Barrel and once again bashing Jones and Howard. He was also outraged that the Coles received only an honorable mention and $500 gift card.
Some might argue that the bashing blog post in February worked in Howard and Jones's favor, giving the couple a national platform to promote they're campaign and rake in more votes alongside the Cole's growing numbers.
"I'm still overwhelmed just thinking about [the votes] right now," says Jones. "It was an absolutely crazy journey."
The two plan to use the prize to buy centerpieces for their wedding.
"Otherwise, we've just been very excited looking through the Crate and Barrel catalog trying to figure out what we would like."