"I was gay, but I never thought about putting a dress on," laughs Jerry Van Hook, about the first 32 years of his life.
Those would be the pre-Shi-Queeta-Lee years.
Van Hook only donned a dress some 13 years ago. The star was born, improbably enough, at a drag pageant for a gay softball tournament. At the time, Van Hook played ball with the JR.'s Gamecocks.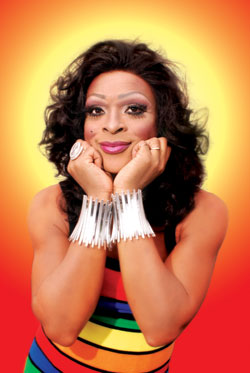 Van Hook as Shi-Queeta-Lee
"Everyone on the team had a girl name," he explains. "When I joined the team I lived in Southeast D.C. They were calling me Shiqueeta, Shiquata — just something crazy like that. My middle name is Lee, so that's how Lee got a hold to it."
The North American Gay Amateur Athletic Alliance's drag pageant was Van Hook's first experience being all done up. "I saw how beautiful I looked, and wanted to keep doing it."
Since then, "Shi-Queeta has taken over my life," he says.
Now one of D.C.'s most prominent drag queens, Lee is out and about at least four times a week: at Nellie's for the sports bar's Sunday drag brunch and Tuesday drag bingo, and at Town for its Friday and Saturday night drag shows. She also freelances making costumes and consulting on makeup for the theater department at Howard University and Studio Theatre, among other clients.
"I spend a lot of time behind the sewing machine," she says. And no time on the mound. "They've been trying to get me to come back and play ball, but I don't have the time to really put into it."
This year, Lee returns to host and perform at the 20th annual Black Pride. Lee will serve as emcee for a 30-minute "Broadway-style production" featuring a large crew of local drag queens, plus "five or six bodybuilders" adding to the spectacle.
Van Hook grew up near Lynchburg, Va., in a small town called Gretna. He moved to D.C. 27 years ago, "right after high school."
Before Lee, Van Hook waited tables at various restaurants around town, including Planet Hollywood.
"The whole purpose of working in restaurants was to meet different people and see new faces everyday," he says. "Drag is the same thing for me, but I get to entertain, too.
"It's part of my profession, but that's all it is," Van Hook says about female impersonation. "I don't have a desire to do any body alterations or do anything to my body to become a woman. I just love the entertainment value."
Van Hook developed the spelling of his alter-ego in consultation with an old female colleague of his.
"We were at work one day and she was like, 'Well, how do you spell it?' And I was like, 'Girl, I really don't know how to spell it.' We were just sitting there writing out different ways. We thought it'd be funny if we do queeta." Later came the hyphens, "just to give it a bit more oomph.
"Everybody used to tell me, 'Why do you have such a ghetto name when your persona is a beautiful young woman?' But the name is very unforgettable."
There is another professional female impersonator with the same name, New York-based drag queen Shequida. "A lot of people get us mixed up," says Lee. To make matters more confusing, both have competed on FOX's America's Got Talent. But whereas Shequida is known as a singer, and competed as a singer on the show in 2008, to date Lee has only ever lip-synched in public. Lee hopes to actually sing "in the near future. I'd like to put together a one-woman show, 'My life as Shi-Queeta-Lee.' I have many talents," she teases.
Lee appeared on America's Got Talent last summer as part of the Diva League of drag queens and dancers, all associated with Town Danceboutique. The experience was a bit jarring. The show's acerbic judge Piers Morgan was a bit rough on them, for one. Nonetheless, the show's producers wanted them to come back and audition again this year. "No one wanted to go through it again, so we didn't accept the offer," says Lee. Yet the experience hasn't deterred Lee from the small screen in the least. "I'm a TV fanatic," she concedes.
In fact, Lee is waiting to hear back after auditioning for season three of RuPaul's Drag Race on LOGO. She also auditioned to host a new TV show on Oprah Winfrey's network. And she's currently developing a local public-access cable variety show, Spill The Tea with Shi-Queeta-Lee. The focus is talking to "people who have helped Shi-Queeta-Lee, making my career what it is today. I'm giving them the chance the share the light." Among them: photographer Robert Mercer Jr., makeup artist Frederick Sanders, dancer Derek Brown, the show's producer Cheryl Brown, and "on and on." Lee hopes the show begins airing by fall on various channels on Comcast and elsewhere.
From all her projected work in television to her various gigs hosting around town — not to mention her contract theater work — well, it's a lot for one drag queen to tackle. But Lee is clearly a go-getter type who relishes a good challenge. "I always try to do something new and exciting every week of my life.
"I want the world to know who Shi-Queeta is," Van Hook continues. "So I'm going to do whatever I have to do to make it that way."
Shi-Queeta-Lee appears at 4:15 p.m. at Sunday's Black Pride Health & Wellness Expo, at the Washington Convention Center. For more information, visit dcblackpride.org.