On Tuesday morning, May 18, Washington awoke to news that "family values conservative" Rep. Mark Souder (R-Ind.) – who came to D.C. as part of former GOP House Speaker Newt Gingrich's "Contract with America" class of '95 – would be resigning from Congress because of an affair with a staffer.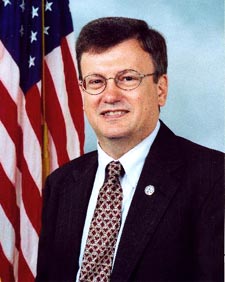 Rep. Mark Souder
Souder, who has railed against marriage equality and needle-exchange programs, notably voted against three of the four impeachment counts against President Bill Clinton in 1998. The only one that he voted for, according to ABC's Jake Tapper, was the count relating to obstruction of justice.
In the statement, Souder said, "I sinned against God, my wife and my family by having a mutual relationship with a part-time member of my staff.
"In the poisonous environment of Washington, D.C., any personal failing is seized upon, often twisted, for political gain," he continued. "I am resigning rather than to put my family through that painful, drawn-out process."
In considering the Domestic Partnership Benefits and Obligations Act, which would give federal employees in same-sex relationships access to equal health benefits, Souder voted against the bill in a House subcommittee, telling the Federal Times in August 2009, "I am against taxpayer funding for these benefits because it is totally inconsistent with the belief that marriage should be one man and one woman."
Souder also voted for the Federal Marriage Amendment, which would have limited marriage in all U.S. jurisdictions to only those between one man and one woman, in 2004.
Also this past year, Souder opposed a needle-exchange amendment on the House floor, saying in June 2009, "Studies are, in fact, very mixed," as he admitted such programs decrease HIV transmission. Congress nonetheless repealed the 21-year-old ban on federal funding for local needle-exchange programs, such as those run in the District, in a funding bill signed by President Obama in December 2009.
The Human Rights Campaign responded to the news on Tuesday, with spokesman Michael Cole telling Metro Weekly, "Rep. Souder proves once again that it's not LGBT people who are the threat to 'family values.' The good citizens of Indiana would be well served to elect a successor who in both word and deed more closely mirrors their own values of equality and respect for all people."
Souder said that his resignation will be effective on Friday, May 21. Indiana's governor, Republican Mitch Daniels, has latitude to decide whether to hold a special election for the seat. In the meantime, The Washington Post reports that local precinct committee men and women will select a replacement for Souder for this November's general election.