The role of first lady has been one comprised of equal parts opportunity and frustration — the first because occupying such a prominent role in the political system naturally brings the attention of the nation, the second because an unelected spouse is expected to buttress the fortunes of her husband while doing nothing to undermine them.
Perhaps that's why we always find such fascination in the opinions of presidential spouses, especially Republican ones whom so many wish to believe hold more liberal beliefs than their husbands.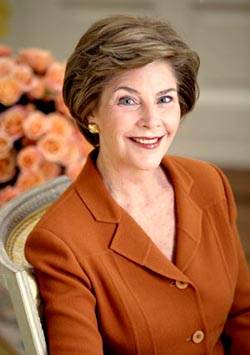 Laura Bush
With the arrival of her new book and media appearances including an interview with Larry King, former first lady Laura Bush is feeding into just that cycle by announcing her belief that gay and lesbian couples be treated equally, and that legally recognized same-sex marriage would eventually become a part of our culture.
"When couples are committed to each other and love each other they ought to have the same sort of rights that everyone has," she said during her interview with King.
One wishes that viewpoint had found more fertile ground in the last administration.
Her comments, in fact, are simply reminders of the ethical contortions and deep cynicism of George W. Bush's two terms in the White House. Laura Bush's apparent private acceptance of gay and lesbian people was mirrored in the vice president's family, where Mary Cheney and her partner Heather Poe were considered full partners in her father's political career (even if they were occasionally pushed discreetly to the side of the stage).
Since leaving office, Dick Cheney and his daughter Liz have even taken time from their "All Torture, All the Time" tour to say that the "Don't Ask, Don't Tell" policy banning openly gay service in the military should be repealed.
Yet these are the people who pushed to write discrimination against gays and lesbians into the Constitution to eke out more votes. These are the people who refused to consider repealing DADT, discharging honorable gay and lesbian service members in a time of two wars — even as they had to lower recruitment standards to the point of enlisting violent convicted felons in order to fill out the ranks.
I recently lamented that Ricky Martin's coming out was oversold in importance because he chose to come out long after the peak of his success, when the truth would cost him the least. In an odd way, the same applies to Laura Bush's newly public respect for the lives of gay and lesbian people — it's a laudable attitude that costs little but sells a memoir.
But there's a key difference. Martin's former silence directly harmed no one but himself. The silence of Laura Bush and others in the previous administration actively aided and abetted in attacks on gay and lesbian lives — attacks with real consequences, real harms, from couples forced to live apart or emigrate in the face of discriminatory partner immigration laws, to the active promotion of state laws blocking same-sex marriages, to the continued expulsion of honorable soldiers.
It will take far, far more than some friendly interviews and soft-spoken approval to undo the damage done. Perhaps her comments will go beyond book-tour publicity and become an active voice for change. But even if they do, it's not Laura Bush's place to atone for the anti-gay sins of her husband.
As unlikely as it is, that's a job George would have to take on himself.