Ever wonder what the Dixie Chicks would sound like without lead singer Natalie Maines? Well, now we know: Sheryl Crow.
Crow is actually nowhere to be found on the self-titled debut from the Court Yard Hounds, the side project of Dixie Chicks Emily Robison and Martie Maguire. The harmonizing sisters only formed the Hounds because Maines still isn't ready to get back to recording, four years after the firecracker of an album Taking the Long Way.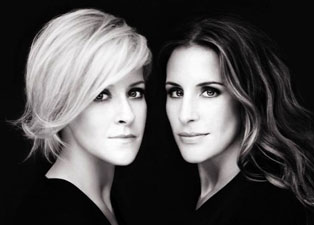 Court Yard Hounds
But Robison, who assumes the lead here, is almost a vocal dead-ringer for Crow, at least when the pop/rocker is at her most reserved and restrained. (When she gets wound up and rambunctious, of course, Crow can sound a lot like Maines.) Together, these country-rocking sisters make music that would win over fans of Crow. Even Chicks fans should be mostly charmed by the set, which finds a familiar blend of folk, bluegrass, country and pop/rock. The resulting stew is missing Maines's feistiness and coarseness, but it still packs a punch.
"It Didn't Make A Sound" is an undeniably catchy, honky-tonk ditty with an appealing sassy message about moving on. "Ain't No Son" is a blistering gem, with a deceptively sweet verse of fiddle-playing that fuels an amped-up hard-rock chorus ready to explode. "I've got somethin' to say, I'm scared and so afraid. Can you take me as I am?" Robison sings in the verse. When you learn that the song relates a son's coming out to his hidebound father — whose anger finds expression in the chorus — well, for a second you think, Natalie who?
But as much appeal as any lover of sassy and strong pop/rock with a slight twang will find here, you can't help but think what if Crow had actually collaborated with them? Would it have added some extra umph? Or what if they had recruited someone else known for spunk — Bonnie Raitt, maybe, or even better Dolly Parton? Instead, the only collaboration is with the suddenly everywhere Jakob Dylan, son of Bob. The resulting weather-weary "See You In The Spring" blows both hot and cold, but it doesn't blow you away.
And what if Maines wasn't content just whistling Dixie and had actually stepped into the recording studio again? Taking the Long Way saw the Chicks sweep the Grammys in 2007, becoming fully accepted in the rock firmament after the country industry had shunned them, smarting from the trio's steadfast anti-Iraq War and anti-President Bush sentiments a few years prior. Now, it seems Maines is still smarting herself. Though the trio will tour this summer, there remains a question about whether there is a recording future.
It will be interesting to see what Maines has to say, when — and if — she finally has something to say. Has time healed everything? We're still waiting.
Court Yard Hounds
Court Yard Hounds



Columbia
$11.98

Toni Braxton
Pulse


Atlantic
$18.98
Toni Braxton's newest album opens with a dramatic song called "Yesterday." It's nothing like the pining Lennon/McCartney classic and everything like shlocky recent hits produced by Ryan "OneRepublic" Tedder — especially Beyonce's "Halo." The bass dives deep before the big chorus, and the strings strum up a storm. "You, you are so yesterday," Braxton sings in her resonant register, and it makes you wonder what she was doing yesterday, or at least last year. Sure, her vocals are more immediately, classically beautiful — it doesn't take any work to admire and appreciate her instrument. But did she really think she could one-up Beyonce?
Braxton puts herself through the paces all throughout Pulse, chasing after another hit R&B/pop album — it's been 10 years and three albums since The Heat, after all — or even just another hit. She hasn't really had one of those since The Heat's "He Wasn't Man Enough" and "Spanish Guitar." Of course, the Maryland native, who's been in show business for 17 years, hasn't been served well over the past decade by her handlers, and her past two albums suffered from criminally bad promotion. Now after a successful casino show in Las Vegas, a turn on Dancing with the Stars and a new label home in Atlantic Records, here's hoping Pulse revives her time in the spotlight.
As much as Pulse finds Braxton derivatively pursuing the tried-and-true, offering little that is new, it is a joy just to have that luxurious contralto voice back on record. The fact that she manages to give us a few songs worth hearing again is bonus.